In Late Last Night Lilian Darcy takes us back just a touch in time in Marietta. We have heard mention of Kate in previous novellas on the Copper Mountain Rodeo series, but this time we get Kate's story.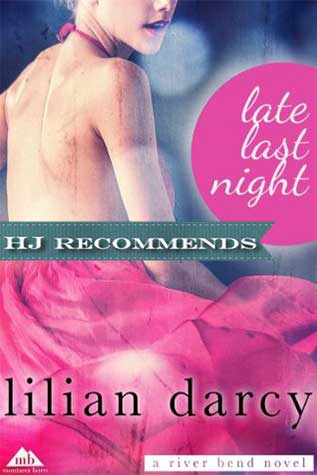 Kate has been living with her brother Rob, his wife Melinda, and their children in their home on the ranch. Besides her teaching job, Kate also helps out with the kids and on the ranch as much as she can. She has been burning the candle at both ends for so long that she is close to burn out, close to starting to resent her family. After being pulled over yet again for a traffic violation by Sheriff Harrison Pearce, his words help open her eyes and give her courage to make the changes she needs to in her life. There is something about Harrison that brings Kate peace and makes her feel grounded…and yes, attracted to him. But it's been so long and Kate doesn't think she has any business starting any kind of relationship with the shape her life is in right now.
Soon they seem to run into each other everywhere though, and spend more and more time together. Kate is feeling good and making positive changes in her life…and both Kate and Harrison feel a connection and so much more. For Kate it is happening very fast and a misunderstanding on her part threatens to unravel what they've started just as quickly. But some connections are meant to be and just might be worth the effort to build… When tragedy strikes it is a time of grief and a time of pulling together. Will Kate risk pulling things together with Harrison?
Lilian gives us a romance to lose yourself in with Late Last Night. Whether or not you've read any of the other Montana Born books you will be soon be quickly immersed and enchanted with Kate and Harrison's story. Late Last Night is a quick read, but definitely a complete read. Lilian manages to pack in the emotions, both good and bad, and write with a flair that blends them together so well…making them real.
Kate and Harrison are both mature characters and their life experiences make them easy to relate to and to love. It was with a lot of good feeling that I watched Kate grow and gain confidence in herself. She is a really good person who has always put others first…now it's time to put Kate first, but she still makes sure no one is neglected. Harrison is ready to settle down and he knows what and who he wants! As contented and peaceful as Kate feels with him, he feels the same. The chemistry between Harrison and Kate is off the walls and Lilian writes this well into the story line.
If you have read the other Montana Born books you will see a lot of characters from previous books, the connections and where they've come from. This was something I really liked about Late Last Night also…it is really engaging how Lilian manages to weave them into Late Last Night so effortlessly and make them all a part of the story whether as strong secondary characters or very subtle ones. However, as I said before you will not be lost if this is your first book!
I'd highly recommend Late Last Night to any romance reader looking for a quick, heart felt read with some memorable characters.
Book Info:

Published January 9th 2014 by The Tule Publishing Group LLC
It's May 1996 and Marietta High School English teacher Kate MacCreadie is almost at the end of her rope, torn between the demands of her work and her heavy involvement in helping her younger brother Rob and his wife Melinda take care of their five young children on the MacCreadie family ranch.
When Marietta's fine-looking new sheriff, Harrison Pearce, pulls Kate over for her third traffic violation in as many months, they both know it's a sign that something has to give.
Kate finds it almost a relief to be told by this calm, strong man to get her life in order, and then she just keeps on seeing him – at school after there's been a suspicious break-in, on the evening of the prom when he's off duty and driving his nephew and friends to the event in one of his brother's gorgeous vintage cars.
Late that night, after prom is over, a tragedy at River Bend Park brings Kate and Harrison together yet again, and this time, in the highly charged atmosphere, Kate discovers that she never wants to let him go. But with his divorce still fresh, is Harrison ready for someone new?