Leave the Lights On by Karen Stivali: Parker Wood always dreamed of becoming a professional baseball player. He and his best friend Joey were on the fast-track to the MLB when Parker was severely hurt in an almost fatal car accident. He spent the following two years of his life rehabbing, so he could walk once again and live a normal life. Parker's dreams were shattered while Joey made it into the big leagues. Fully recovered, Parker finds himself living once again in his childhood home and managing his father's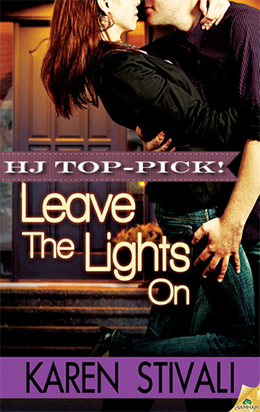 landscaping business. His father's recent passing only compounds his somber worldview. To his surprise, running his father's company is truly fulfilling and challenging. In addition, Sophie, one of his best friends from childhood, is once again his next door neighbor.
Successful wedding planner Sophie Vaughn is officially single. The philandering antics of her now ex-husband, along with her very public divorce, caused her enough humiliation to last a lifetime. Sophie craves normalcy, so she buys her parent's former home in hopes of absorbing the neighborhood's ambiance, which she hopes will ultimately bring her peace. She is excited to see Parker again, since she has been secretly "in like" with him for years. Little does she know that Parker has had similar feelings for her as well.
Parker and Sophie reestablish their friendship immediately, reminiscing about old times and learning about each other all over again. However, this time there are sparks smoldering everywhere. One thing leads to another and they find themselves in bed, experiencing the best sex of their lives. They date, swim and stay up all night talking. Overtime, the sparks evolve into much more. However, both have huge trust issues and some other obstacles that they need to work through in order for them to have a future together.
I found Leave the Lights On to be the perfect contemporary romance and I enjoyed it so much that I read it in less than a day. It is an entertaining, well-written book with an authentic love story that took complete hold of my mind, body and soul from the very first page. Since all of the characters are described so completely, you can truly experience their feelings; regardless of whether they are of happiness, love, heartache or anguish . The sex scenes are hot, sexy and full of real emotion. I felt a connection to the characters immediately, and was rooting for Sophie and Parker to remain together through thick and thin. This book is a must read for anyone that enjoys an engaging love story.
Book Info:

HJ Top Pick
Expected publication: November 5th 2013 by Samhain Publishing
Parker Wood's dreams of becoming a professional baseball player are shattered when he's injured in a devastating car crash. After two years in hospitals and physical rehab facilities, he's ready to move back to his childhood home and take over the family landscaping company. The house and business are his, now that his father has passed.
Sophie Vaughn has suffered through a hellishly public divorce from a husband who couldn't manage to stay faithful for two months of marriage. Determined not to let her personal drama impact her successful wedding and party planning business, she buys her parents' old house, hoping the comfort of familiar surroundings will help her heal.
When Parker and Sophie discover they're neighbors once again, it's as if time has stood still. Their friendship is quickly rekindled, along with the decade-long crush neither of them ever admitted having. Then the heat between them exposes a long-held secret that threatens to tear them apart…unless they can detach from their painful pasts and move forward-together.