Legal Passion by Lisa Childs: Passionate people are usually passionate in every aspect of their lives from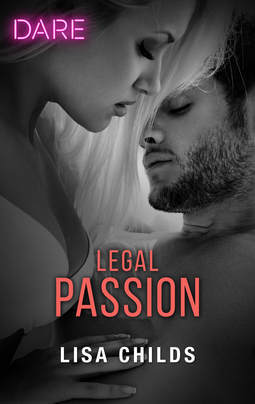 work to friends to lovers. However they don't always know not to mix business with pleasure.
Hillary Bellows had been pretty smart though she knew she shouldn't ever be alone with her opposing counsel. She knew her passions were enough to engulf the both of them. With this case though it was almost to easy to win, and she hadn't ever won against Stone. Which is why she started to wonder about things and didn't put the breaks on this time.
Stone Michaelsen wasn't just named Stone. Whenever Hillary was around he was it seemed, ridiculously so as he was no longer an adolescent unable to control himself.
It must be this case, and while he knew his client was innocent he had no idea why everything was pointing to the contrary and how Hillary was getting under his skin.
When Stone stopped by late one night it was just to talk, but things are never that simple. What will happen when the case is over? Will the jury convict the right one?
This is an interesting novella from Ms. Childs and is part of a series which I admit I've not read any others from. The beginning was difficult to get through as a sense of time was not well established. However as the novella progressed it drags you in as a reader and creates a desire to not only know about the romance but about the murder trial, almost equally. The read is a HOT one though, a true panty melter so be forewarned about that. The characters are well developed and the bond between the reader and their lives is well nurtured. This is not for the faint of heart but definitely a lively read.
Book Info:

Publication: September 1st 2018 | Harlequin Dare | Legal Lovers #3
Verdict: guilty… of corrupting Ms Prim and Proper!
Hotshot lawyer Stone Michaelsen never loses a case, but rival Hillary Bellows is determined to beat him in court. When they're alone together, the gloves – and clothes – come off. Uptight in court yet naughty in private, they can't keep their hands off each other, and their jobs are on the line. Real feelings emerge, raising the stakes and turning sexy sparks into a roaring fire!