Lessons in Gravity by Jessica Peterson: Maddie is smart, determined,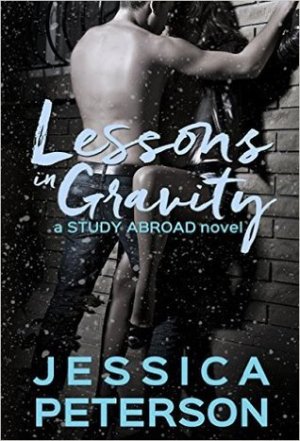 fun, and sassy. She's grateful to be studying abroad in Spain where she can bask in the gorgeous architecture and distance herself from the messy divorce her parents are undergoing. Maddie's sense of self and foundation were ripped away when her family fell apart and she's decided to close herself off from the joy and pain of love.
Javier is back in Madrid after a year-long tour as a guitarist for a popular Latin singer. He's over one-night stands and ready to commit and reconnect with his ex-girlfriend. He's looking forward to re-discovering the music he loves and staring a new venture.
Maddie is looking for her latest one-night stand when Javier walks in. From the first glance, she's determined that he will be hers for the night. After that night, they end up transitioning to friends. They have fun as Javier shows Maddie the sights.
"I don't know, Maverick." I look at him, squinting through my sunglasses. "Are you as good at flying planes as Tom Cruise is?"
Javier's smile deepens, a devastating, boyish flash of white teeth. "Trust me, Goose, you have nothing to worry about."
Even though they are looking for different things, neither can forget their night nor the chemistry that still sizzles between them. Their friendship allows them to get to know each other while remaining in the other's life. But friendship doesn't quite cut it when they find more than they bargained for.
Lessons in Gravity is a fun and sexy new adult romance. Jessica Peterson provides great descriptions of Madrid. Ms. Peterson created a good cast of women in this study abroad program and the men they meet along the way. Lessons in Gravity can be read as a standalone. Fans of Melissa Foster and Tracy Solheim will enjoy Lessons in Gravity.
Book Info:

Publication: Published April 4th 2016 | Peterson Paperbacks | Study Abroad #2
Maddie Lucas is only looking for a one night stand…
While studying in Spain for her semester abroad, Maddie hopes to escape the drama surrounding her parents' divorce—a divorce she may or may not have caused—while researching Spanish architecture for her thesis. And if she hooks up with hot Madrileños along the way? All the better.
But handsome Spaniard Javier Montoya wants so much more.
Guitarist Javier is ready to set aside his rock star ways and settle down for good with his gorgeous ex-girlfriend. But after a one night stand with sexy, passionate Maddie blossoms into genuine friendship, he begins to wonder if Maddie might be the forever girl he's looking for.
Too bad Maddie believes forever is more fiction than fairy tale. Can Javier prove to her that fairy tales exist? Or is Maddie right to think she doesn't deserve happily ever after?
LESSONS IN GRAVITY is a New Adult romance, suitable for mature audiences.