In Lethal Game (GhostWalkers #16) by Christine Feehan, Getting injured on the job is nothing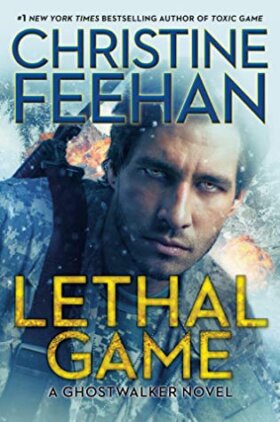 new for GhostWalker Malichai Fortunes. As a medic and a pararescuer he's in enemy territory more often than not–but he's never been injured so severely that he's needed to take leave before. Until now. Sequestered away in sunny San Diego, Malichai's leg finally begins to heal. Just when he thought he'd start to drive himself crazy from boredom, he becomes captivated by Amaryllis, who works at the bed & breakfast where he's staying. If he didn't know any better, Malichai would swear she's a GhostWalker. Or at least has similar enhancements.
'In the back of his head, the whisper of conspiracy was getting louder.'
As Malichai falls more and more for Amaryllis, things grow chaotic at the B&B. Between a local murder, guests arguing, and the threat of potential violence on a large scale breaking out, he has to decide whether to bring in his fellow GhostWalkers in for an assist. Malichai hates not being at full strength. And even Amaryllis is worried about his leg not healing like it should. She's not sure, though, if she can stick around even though she knows she's falling in love when her every instinct tells her there's danger headed their way. But maybe what Amaryllis has with Malichai–and the chance to be part of a family–is something worth fighting for.
'Amaryllis felt overwhelmed with a sudden rising emotion she could only identify as love, and that scared her to death. She had never expected to feel so much for another human being.'
Lethal Game was an action-packed addition to Christine Feehan's GhostWalkers series, which somehow keeps getting better with every new story. It also had one of the most fun couples to date, who captured my heart with their sincere connection and compassionate natures.
'She looked like an angel, kissed like sin and loved him as only Amaryllis could. She was everything he'd ever wanted in a woman.'
I wasn't kidding when I said that each new book is only getting better in the GhostWalkers series. I'm a huge fan of Christine Feehan's anyway, but after a couple of the heroes in previous books were a bit on the caveman side, I'm happy that the last few installments have shown a much more evolved hero. And the heroines have more than held their own against their male counterparts, too–with Amaryllis, our heroine in Lethal Game, most certainly included in that trend.
Malichai has been on my radar for a while so I was pleased that Feehan gave him his own story. He was every bit as cool under pressure as it seemed in previous books and of course his calming presence as a medic was prevalent. It was getting to see Malichai's wonderful sense of humor that I really loved, especially when he was able to make others, like Amaryllis, laugh as well. He was in a tough situation after being shot several times in the leg during a mission. So for Malichai to have to take a vacation–something he'd never really done–was tough. But finding pleasure in helping the B&B owner and growing to care for Amaryllis was what helped him cope. I do have to say I was wowed by Malichai's bravery. I won't spoil what happened, but he gave true meaning to what the GhostWalker creed is all about.
Amaryllis was the perfect match for Malichai. Her kind nature matched his but she could also handle herself in a fight, so she was as protective of him as he was of her. That was a cool thing to see play out. Without giving away too much of Amaryllis's background, she somewhat had ties to the GhostWalkers and unfortunately had a dreary past that didn't involve much, if any, love or positive attention. So being around Malichai and the other soldiers and their family was a big change for Amaryllis. But one that was a great fit for her, thankfully.
A story with many moving parts, tons of suspense, and of course a good dose of romance, Lethal Game is a perfect example of why I keep coming back for more of the GhostWalkers series.
Book Info:

Publication: Published March 3rd 2020 | Berkley | GhostWalkers #16
The sparks of unexpected passion ignite in this electrifying GhostWalker novel from #1 New York Times bestselling author Christine Feehan.
When Malichai Fortunes attacks a problem, he does it full force–a habit that earns the GhostWalker a painful injury and a forced vacation in San Diego, California. With nothing but physical therapy on the horizon, Malichai is starting to get restless…until a striking blue-eyed blonde makes all his senses come alive.
Amaryllis is kind and warm and sees beyond Malichai's rough exterior, but he can tell there's something she's hiding. Her innate healing abilities indicate she might be a GhostWalker–albeit an untrained one. Malichai doesn't think their crossing paths is anything more than coincidence, but he can sense that one wrong word could send Amaryllis running.
When strange events at his temporary retreat put Malichai on high alert, he knows he won't be able to deal with the threat and keep his woman safe in his weakened state. But calling in his brothers means telling Amaryllis what he really is, and revealing that he knows the truth about her too…