What I found so amazing about Life and Other Near-Death Experiences by Camille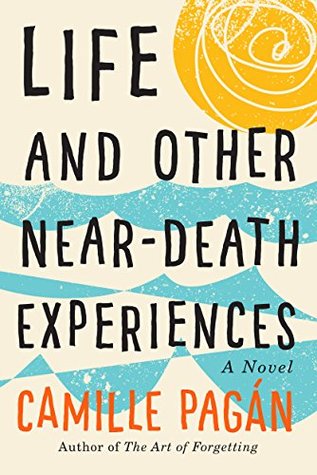 Pagán is that despite the weighty subject of a cancer diagnosis, the author was able to show us a little bit of lightheartedness. This is a story about working past your fears, coming to terms with your lift choices, and finding love again when you least expect it.
Libby Miller is a 40 something who gets to major blows in one day. First she is told by her doctor that she has a very rare form of cancer that leaves her little time left, then when she returns home to tell her husband, he informs her that he is gay! Talk about a punch to the gut. Reeling, Libby keeps her diagnosis to herself, not telling her father, brother or friends. Deciding that she is not going to seek treatment and waste away like she watched her mother do, Libby hops a plane and heads for the blue waters and white beaches of the Caribbean. While trying to decide what to do next, she finds love, friendship and the courage that she did not think that she had to fight the disease that could be ravaging her body.
What I loved about Libby is that despite her husbands declaration and her cancer diagnosis, she had decided that she is going to live life on her terms. It is her brother and the new love of her life that help her to see past the fear and realize that she has to fight. I loved the connection with the characters in the book. Libby gets a few ahh-ha moments along the way, but she always has someone there offering support, when she needs it. This book was funny, sad, inspiring and in the end, Libby does find happiness and a beautiful HEA.
Book Info:

Publication: November 1st 2015 | Lake Union Publishing |
Libby Miller has always been an unwavering optimist—but when her husband drops a bomb on their marriage the same day a doctor delivers devastating news, she realizes her rose-colored glasses have actually been blinding her.
With nothing left to lose, she abandons her life in Chicago for the clear waters and bright beaches of the Caribbean for what might be her last hurrah. Despite her new sunny locale, her plans go awry when she finds that she can't quite outrun the past or bring herself to face an unknowable future. Every day of tropical bliss may be an invitation to disaster, but with her twin brother on her trail and a new relationship on the horizon, Libby is determined to forget about fate. Will she risk it all to live—and love—a little longer?
From critically acclaimed author Camille Pagán comes a hilarious and hopeful story about a woman choosing between a "perfect" life and actually living.