In Lingerie For Felons by Ros Baxter, Mathematician and social activist Lola believes in fighting for what's right through nonviolent actions. Over the course of twenty or so years, she finds herself in trouble–a few times–with the law for her impassioned protests. And somehow every single time she's wearing inappropriate undergarments much to her dismay. Who knew the thought of having to potentially endure a strip search wearing a thong could be more horrifying than actually getting arrested?
'I was hooked. Whatever the hell this crazy thing was, it was certainly bigger than my mortal powers to withstand it.'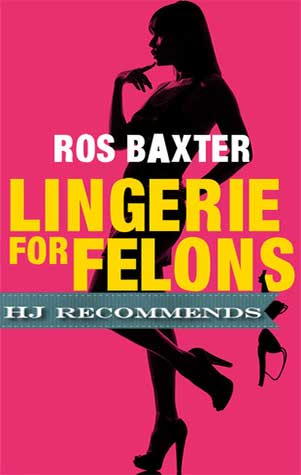 Lola meets Wayne just after her first arrest and she's instantly taken with him. He's a big, burly Australian with a hearty laugh who finds her equally intriguing even though she's had little experience with men by age twenty-three. All is well until Lola simply can't look the other way any longer. Wayne is a stockbroker to certain Republican party members and this proves too much for her to deal with.
'Somewhere, in the middle of that long, beautiful night, I realized I still loved him. It sounds kind of corny, but I guess you don't just get over a love like we had.'
Years pass and Lola has failed attempts at romances, endures serious life-changing events, a multitude of family issues, and a couple more brushes with the law for her activism. The few times she's run into Wayne have been memorable and bittersweet. That attraction they always had for each other never seeming to disappear. Just as she finally gets her life on track and feels like she's making a difference, trouble once again finds Lola. But this time she fears she may not have anyone to bail her out like in the past. Unless her life comes full circle and the one person she's run from time and again saves the day.
'Why is it that people who love you have the power to undo you with a few words?'
Lingerie For Felons is a hilarious yet insightful piece of women's literature by Ros Baxter. This narrative set in Lola's voice shows us the thoughts of a highly opinionated social activist who is also a math wiz with a penchant for being in the right place at the wrong time.
The story bounces back and forth in time, letting us know when and where events took place and giving us the back history of her trials and tribulations. It reads very much like Lola is sitting there telling us about her life in a very straightforward no-nonsense way that only truly brilliant people can get away with. I loved how Ms. Baxter seemed to put into words the inner thoughts that most of us have but we normally don't say aloud. It ran the gamut from trivial everyday things to big life-changing events. And I thought the way Lola's feelings of anger, love for her crazy family, and passion for her social causes were described was concise and on-point.
I identified with Lola's character fairly easily. Okay…so her love and devotion, her almost reverence, to chocolate sadly hit a little too close to home! But she, along with her family, had a pretty tough go of it for a while. Yet not only did they find a way to hold on to their sense of humor, they were also always looking at how to make a change in the world, which I found very commendable. There are a lot of heartwarming moments that I can't mention in detail without giving away key plot points, but I have to say my favorite part of Lola's story, other than her HEA of course, is when she meets Eve for the first time. Powerful stuff…
I truly enjoyed reading Lingerie For Felons. It was comical but also had a lot of heart and purpose. With a lovely HEA that will make you smile, this one is highly recommended.
Book Info:

Published March 1st 2014 by Escape Publishing
If there's one universal truth, it's this: You're always wearing your worst underwear when you land in trouble.
Lola's parents told her that everyone can make a difference. And she believed them. She's been fighting the good fights since she was eleven years old. But at 23, Lola falls hard for an Australian stockbroker who thinks Doctors Without Borders is a porno and Joni Mitchell sounds like a harp seal being battered to death. She cuts him loose, but over the next fifteen years, through protests, misunderstandings, humiliating predicaments, and a number of poor underwear choices, their lives and paths continue to converge.
Along the way, Lola learns a few important life lessons: Never wear a red lace thong to a strip search. Make sure you take motion sickness pills if you're going to the Southern Ocean to save the whales. And sometimes, Mr Right can be all wrong, and Mr Wrong just needs time to find the right path.
Funny, touching, emotional and political, Lingerie for Felons is Bridget Jones meets An Inconvenient Truth, about doing the right thing, finding the right person, and always thinking through your underwear choices.