The Billion Dollar Bachelor by Jackie Ashenden Pandora Garrett princess of the underworld, twenty-five and still a virgin, after all with a father like her's who is going to touch her? All she wants is to escape, to be free to live her own life her own way. Will she ever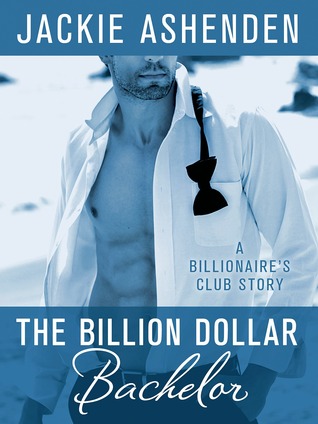 get that chance or will her father forever run her life?
Jax Morrow eldest son to the Morrow empire and determined to keep things on the squeaky clean side. Things just haven't been going his way though so he decides to take a break, go to a bar and drink some whiskey. With the whiskey he's transformed.
Jax and Pandora begin a game of Snow White and the Huntsman something that runs throughout the entire story. While most romances focus on the female perspective Ms. Ashenden really focuses more on Jax and his growth and transformation throughout the story without neglecting Pandora. With the couple we are able to experience a lot of their firsts together and (painfully so) their growing pains. It was truly a roller coaster of a ride, but well worth it.
Ms. Ashenden if I had one complaint it was that it was too short and left me wanting more, though as it's book one of at least a trilogy I'm eager for your next installment.
Book Info:


Published February 11th 2014 by St. Martin's Griffin | Series: A Billionaire's Club
The Billionaire's Club: a fabulously sexy contemporary series about some of the world's wealthiest, most powerful men and the women they claim…and keep.  Jax Morrow is a dangerously handsome, spectacularly wealthy entrepreneur whose world is turned upside down when Pandora Garret walks into a dark, smoky bar one night—a stunning combination of sex and innocence. He knows she's trouble at first sight, but Jax can't let her leave…unless she's leaving with him. Pandora has had enough. Kept under lock and key by her powerful, controlling father, she aches for freedom. When she briefly escapes and meets Jax she knows he is just what she has been looking for: forbidden, unforgettable passion. After one night in Jax's arms, Pandora knows she can never go back to living under one man's domination. Determined to control her own life she tries to resist Jax, but a dangerous desire rises between them—one that threatens to destroy them. But both Pandora and Jax discover that they just can't be pulled away…