Live Out Loud by Marie Meyer: Harper is fiercely independent and determined to pursue her passions. Since she is deaf, she knows that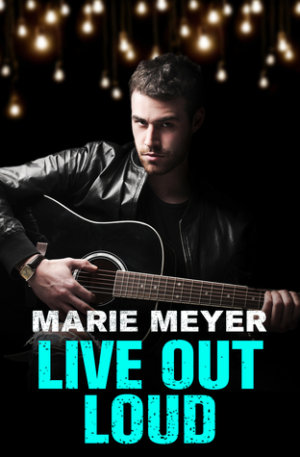 she will need to work harder to make a career in pharmacy viable. But with the help of her best friend and roommate, she's getting to the end of her program and graduation.
Thor lives for his band and supporting his mom in any way he can. He loves music and playing has helped him through his anger and frustration. While he loves to work on cars, he's pretty bored with just doing basic jobs, like oil changes, to pay the bills. His life could change in a big way if only they would get their break and a record deal.
Harper's roommate is always looking for the next band to follow and drags Harper to a club. Harper loves music and knows songs by the rhythm, but during this concert she's captivated by the sexy guitarist. Thor is the hottest guy she's seen and she's surprised when he comes looking for her after the show. The surprises keep coming when he still wants her number and a date after learning she's deaf.
"I want this," he says, the corner of his mouth pulling into a playful smirk. "I want to give us a shot." He nods.
"Really?" I sign, mouthing the word around a smile.
Thor hasn't been interested in having a relationship, but somehow Harper burrows under his skin. They have great chemistry and Harper learns to read his moods and pick up on his feelings. Communication can be a little tricky, but between typing on phones, writing notes, and lipreading, they seem to find a way to converse. Both want to be closer, but their respective families have left a mark.
Lifting my hands, I cover hers, stopping her midsentence, or midword, I don't know. "Teach me." I squeeze her hands. I'm tired of being left out. "Please. I don't want to rely on phones, or notebooks, or lipreading. I want to live here."
Live Out Loud is sexy, surprising, and refreshing. Marie Meyer did really well with Harper in terms of the difficulties that she would face as well as all of the things that Harper can do and do well. Ms. Meyer created great characters in their families and friends. Fans of Joss Wood and Erika Kelly will enjoy Live Out Loud.

Book Info:

Publication: April 30th 2017 | Forever Yours |
I thought I'd live in silence forever . . . and then I met him.
I'll never be able to hear, but music has always been a source of comfort for me. Rather than listen to the rhythm, I can actually feel the beat pulsing through me. It's pure bliss. So the moment I saw Thorin playing his guitar, I was mesmerized. I'd never seen anything more beautiful . . . or intimate. I couldn't tell where his body ended and the song began. He's everything I need in my life . . . I'm falling fast, hard, and deep.
I want him more than anything. But while I live in silence, Thor lives in secrets. He's holding something back-something that's keeping this intensity, this longing from being real. And the silence may be too loud to bear . . .