Lone Star Dad by Linda Goodnight is a very sweet story, and an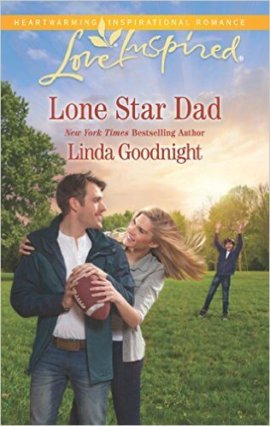 example of why its' so important to give people a second chance, and to not judge them based on their past.
In "Lone Star Dad', Gena comes to the town of Gabriel's Crossing, where she spent many happy times with her grandparents growing up. She is now the guardian of her nephew, and was seeking a quiet town in which to raise him away from the influences of friends who were not the best "influence" on a preteen boy. She and her nephew come into contact with Quinn, who is actually her nephew's father- but does not realize he has a son. Quinn manages to connect on a special level with Derrick, the boy, as they care for an abandoned cat and her newborn kittens. Derrick comes to look up to Quinn, especially to his past football experiences.
Throughout the story Gena wrestles with whether to share the truth with Quinn about his relationship to Derrick. She comes to see many positive qualities in Quinn. I hesitate to say more as I do not wish to spoil the story for fellow readers!
Fans of Linda Goodnight's novels will enjoy this newest work from her! I felt drawn into the town of Gabriel's Crossing!
Book Info:

Publication: September 20, 2016 | Love Inspired |
Nurse Gena Satterfield knew raising her rebellious nephew, Derrick, would be tough, but moving to Gabriel's Crossing was supposed to help ease the transition into their new reality. That was before she realized her new neighbor was Quinn Buchanon—her teenage crush, the town's onetime star quarterback…and Derrick's father. Her sister's dying wish was that Gena keep this secret. Yet watching Quinn connect with the boy and penetrate his angry walls, Gena begins to see him in a whole new light. Now, torn between the truth and the promise she made, Gena has to follow her heart. And hope they can all heal together…as a family.