Lost and Found Heir (Dynasties: DNA Dilemma #3) by Joss Wood is a book that has everything you can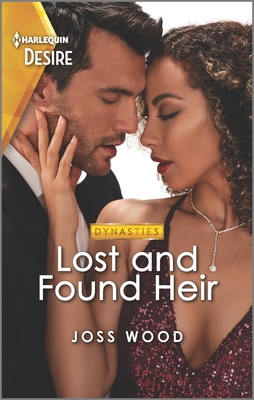 imagine: drama, passion, romance, intrigue and many secrets that have been revealed as the series progresses. In this third installment, Garrett Kaye discovers what he suspected; he's linked with the Ryder-White family. But not in the way he thought. For years he thought that Callum, the patriarch of the illustrious family, was his father. However, Callum's son James informs him that he, not Callum, is Garrett's biological father…and offers him the position of CEO in the family company! This unsettles Garrett, who decides to help his half sister's friend, mixologist Jules Carlson, rescue her mentor's business in Colorado as a method of putting distance between him and his newfound father. And the attraction between them adds more complications to everything that makes Garrett uneasy. Especially when what he thought was a no-strings affair turns into something more deeper and dangerous…
This story begins at the famous Ryder International benefit gala (which we see in the second book in the series, Wrong Brother, Right Kiss), where Garrett meets Jules. Jules's dashing personality intrigues him, making him eager to get to know the fiesty and oh-so-independent woman better. Something that terrifies Jules, because she lives marked by her turbulent childhood defined by domestic violence, for which she has promised not to tie herself to any man.
"My brain thinks it's better, safer, to be free, to be unattached. Attachment equals hurt. Staying in one place, with one person, means I'll be trapped. I can't be trapped, Garrett."
It's not like Garrett doesn't have complicated issues aside from the recent news about his ready-made family. His relationship with his mother, due to her reluctance to talk about his biological father and her prioritization of her work, is what Garrett himself describes as "dysfunctional". He has always wanted to belong, being part of a family that loves and supports him.
"It had always been like this. He was expected to deal with his shit in his own way. On his own. Nobody, not even his mother, had ever been prepared to stand in his corner and fight for him, protect him.

He was alone."
Being denied the family he craves causes him to keep feelings at bay…until Jules gets under his skin.
And indeed she did! This couple is fire personified, their chemistry and intensity are incredible. Likewise, their emotional depth is unique, special.
As in the books that precede this one in the series, we have James's point of view, with the difference that very little is shown, focusing the story on Jules and Garrett. However, there are several details that continue to join the puzzle this series presents and that keep the reader expectant.
As I mentioned before, this is the third book in the Dynasties: DNA Dilemma series and, like the previous ones, the author hasn't disappointed in presenting an exciting, vibrant story with a believable and well-written plot, while touching on a topic as delicate as gender violence in a sensitive way. I look forward to the fourth book, which will bring the Ryder-White family dramas to a conclusion.
Book Info:

Publication: Abril 26, 2022 | Harlequin Desire | Dynasties: DNA Dilemma #3
He's suddenly the heir to a fortune…yet can't get his mind off pursuing a no-strings fling with the woman he can't forget. A Dynasties: DNA Dilemma novel only from Joss Wood!
He's inherited a family and a fortune.
The last thing he wants is complicated.
Until he meets her…
Venture capitalist Garrett Kaye has received the offer of a lifetime—become the CEO of a billion-dollar company…but only if he acknowledges he's heir to his recently discovered birth family. To keep his mind off his choices, he lets his attraction to smart, headstrong mixologist Jules Carson sweep him away. But will "no strings" turn into the ties that bind as he faces the impossible choice between his birthright and his future?
From Harlequin Desire: A luxurious world of bold encounters and sizzling chemistry.
Love triumphs in these uplifting romances, part of the Dynasties: DNA Dilemma series:
Book 1: Secrets of a Bad Reputation
Book 2: Wrong Brother, Right Kiss
Book 3: Lost and Found Heir
Book 4: The Secret Heir Returns