Today it is my pleasure to Welcome author
Susanna Allen
to HJ!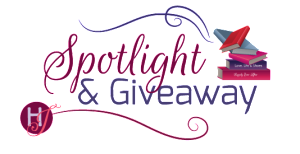 Hi Susanna and welcome to HJ! We're so excited to chat with you about your new release, A Most Unusual Duke!

Hello, I am so happy to be here!

Please summarize the book for the readers here: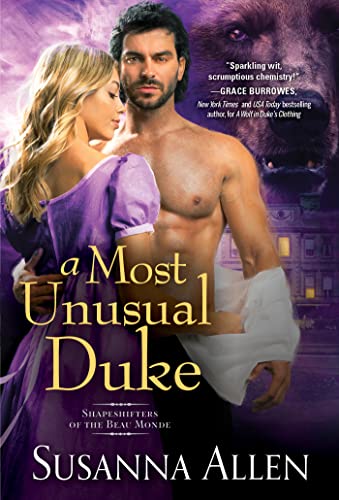 Inspired by the successful mating of Shapeshifter Alfred Blakesley, Duke of Lowell with Miss Felicity Templeton, his human true mate, George the prince regent tries his hand at matchmaking: a forced marriage between another Shapeshifting Alpha and a human female. The former, Arthur Humphries, Duke of Osborn, made a vow he would never marry; Beatrice, the widowed Marchioness of Castleton, vowed never to wed again, having been married to a feral lupine Shifter. Threats to the wellbeing of both ensure they carry out George's plan, but as they work together to put Arthur's home place back to rights, will they be able to resist their growing attraction? (They will not.)

Please share your favorite line(s) or quote from this book:
Arthur is called into a conservatory during a ton ball by Prince George, and "…as he approached a small dais hosting a daybed and a work basket, another door opened, and they were joined by a human female, haughty in bearing—none other than Lady Frost. The lady gave the impression of ten stone of imperiousness contained in a two-stone saddlebag."

That is Beatrice in a nutshell and it makes me laugh every time I read it!
Please share a few Fun facts about this book…
As with the first title in this series, A Wolf in Duke's Clothing, I had the best time coming up with names for my shapeshifting characters. There are so many names that have animal meanings to them, and I think my favorite is in A Most Unusual Duke. Mr. Todd is a factotum supplied by George to help in the resuscitation of Arcadia. He has ginger hair and bright eyes and is quite sly… and of course the surname Todd means fox.
What first attracts your Hero to the Heroine and vice versa?
Arthur loves Beatrice's salty attitude, coming as it does from such a small human woman. Beatrice is at first quite taken with Arthur's robust musculature, but as she gets to know him, his protective streak becomes wonderfully attractive, too.
Did any scene have you blushing, crying or laughing while writing it? And Why?
There's one that had me howling (no pun intended) while I was writing it, but it's a bit spoiler-y, so here's one I also like very much: in the context of the whole book, it makes my heart ache with hope for these two. Arthur refuses to tell Beatrice the identity of his animal self, and she enjoys trying to guess what he is…

'Anon' proved to be nearly an hour. Beatrice was in her habitual place, the chair at the window, as the stillroom door opened.
"Ah, Your Grace." She looked him over.
He looked down. There was nothing to see there; he was buttoned up for once.
"Not the stoat, then," she said.
"A stoat? Madam, you wound me." Osborn lay a hand on his heart in a melodramatic manner. "Did you know how to spot the telltale signs of a verispellis' essential self, you would hesitate to compare me to such."
"Let us see…" She leaned back in her chair and let her gaze run over him, up and down, lingering in a few places which had a discernible effect on his composure. "Well blessed in regard to hair. Of greater height than many. Larger in general than most men, and most of your kind, I suspect." She dwelt on his arms and they did that thing again, that twitching. How tempting it was to ask him to remove his coat and turn around so she may get a look at every inch of him.
Never mind his composure, hers was well rattled now. "I have neither seen you move at speed nor swim, so I know not if you be a greyhound or a salmon."
"As you say." Osborn stood before her dressing table and touched her comb. "In society I often passed the time wondering what sort of animal a human might make."
"In between cultivating your on dits." Beatrice watched his fingers trace over the back of her brush, swirl in her pot of hairpins.
"During, as I spent so much time with tabbies and dragons and ape leaders." He cocked his head. "And so I have wondered about you." He returned the appraisal to which she had treated him. His gaze was like a brand running over her skin. "A pullet. A pigeon. Or so I thought, that night at the ball. And then I became acquainted with your spirit, your virtual claws like those of an eagle, the perception that would not be misplaced in a hawk."
Readers should read this book….
…because the mash-up between the Regency and Shapeshifter genres has been so much fun to write, I think readers will have fun reading it.
Readers should also read this book if they love Regency Era romance but have never given the Shapeshifter genre a try. And conversely: Shapeshifter fans who have never tried a novel set in the Regency Era should give this a go.
What are you currently working on? What other releases do you have in the works?
I am waiting on edits for A Duke at the Door, the third in the Shapeshifters of the Beau Monde series: Alwyn, Duke of Llewellyn is lion Shifter only recently liberated from a travelling menagerie where he was held captive for years. Prince George decides the only one capable of bringing the Welsh duke back to full health is the lady apothecary, Miss Tabitha Barrington whose free spirit has been fettered by a return to England after years of traveling the Continent.…
Their story debuts in August 2022. I am plotting more titles in the series, as well as coming up with ideas for offshoots.
And if readers are partial to contemporary paranormal romance, please check out That Magic Mischief, which was released in October of 2021.

Thanks for blogging at HJ!
Giveaway:

5 Print copies of A WOLF IN DUKE'S CLOTHING for the Susanna Allen.
To enter Giveaway: Please complete the Rafflecopter form and Post a comment to this Q:

If you were to have an animal identity, what would it be? (Mine is a big cat, a lion or a puma)
Excerpt from A Most Unusual Duke:
This follows on directly after Arthur decides Beatrice looks like 'ten stone of imperiousness contained in a two-stone saddlebag'.
"I find myself on the horns of a dilemma," George announced. He paused for effect as if daring his audience press him to continue.
Arthur dared. "Do you, Your Highness? And in those pantaloons?"
"I assure you it is no laughing matter, Arthur." The Prince continued languidly but was betrayed by a slight flush beneath his ears.
"Horns, you say? Anyone we know?" In for a penny, and it was a pound of censure he would accrue for even obliquely alluding to their secret, given the presence of the human female.
"His Grace the Duke of Lowell is now betrothed, as you have both witnessed," George said. "One hopes he and his lady will be fruitful and multiply, growing his estate in stature and consequence, as can only prove fortuitous for those of our kind."
"The titled kind. Dukes and princes and such like." Arthur tipped his head as subtly as he was able down to his left. His silly punning was one thing, but how did Georgie dare speak so loosely before Lady Frost?
"And yet the greater the strength consolidated by Lowell," George continued, "the greater the need that it be matched by his betters. Such as we, Arthur."
"We are cousins," he said to the lady, who did not give the appearance of attending to a word he or His Highness had said.
"Are you unknown to one another? The Marchioness of Castleton, I am pleased to present to you Arthur, Duke of Osborn. Or is it Dowager Marchioness? Is that more in line if not entirely fitting?"
Only one paying as close attention as Arthur would detect the lady's flinch.
"I do believe one is a dowager if widowed, despite a lack of progeny," George went on, indelicate, thoughtless. Arthur's bear lifted his head, as stunned as the man at their regent's lack of manners. "There was, however, knowledge aborning."
"His Highness refers to my awareness of the peculiarities to be found in his and Castleton's unique…ancestry." The marchioness flicked her gaze at Arthur for a heartbeat. "And yours, I presume. As his cousin."
"Quite right, ma'am, quite right." Georgie was always at his most dangerous when his voice softened as it did now, a bored whisper. It boded ill for the interlocutor.
"I marvel at your sangfroid, Georgie." Arthur noted the wince on his cousin's face at the nickname and hoped he drew fire from the female.
"I am not fond of diminutives," George said, and the air changed, a frisson of his dominatum priming the air like lightning about to strike. The prince dropped any pretense of indolence. "I am not fond of relations who do not uphold the family name, of high-ranking peers who do not do their duty to their nation and their species. I am not fond of secrets," and here Arthur and his bear snorted in reckless unison, "nor of secret-keepers who are well placed to wreak havoc. I am especially not enamored of the thought of Lowell's Pack rising in status by the day."
"I have no care for status." Speaking of cold blood, the lady had apparently earned her sobriquet. She spoke as calmly as she would in turning down kippers for breakfast. "Nor for society, nor for threatening the royal slumber. I have decided to leave London and the beau monde—"
"You have decided?" George lofted his brows in disbelief.
"I have, Your Highness." Arthur moved closer to her side; she may know George's secret, but she would not bait him if she knew the potential violence of the regent's essential self.
"How very fortunate that our desires intersect." The force of the prince's will careered about the room. "As it were."
"As what were?" Arthur remembered being similarly at sea the first time he saw Hamlet. Disaster stirred underneath the exchanges, the words themselves anodyne yet sinister in intent.
"As my plans for the future and the parts you will play coincide." George ran a hand over an embroidered lapel. "You enjoy the theatre, do you not, Your Grace? I have heard tell of your attendance at the most popular revues of our day, here and abroad."
"Heard, had you? Have ears everywhere, do you?" Arthur felt his dormant dominatum rouse, unpracticed, raw, and he fought it down. His would make no match for Georgie's, and he would not risk the female coming to harm.
"Oh, yes," His Highness sighed. "For when my subjects near and dear to me fail to do their duty, it pains me, Arthur. Here." He lay a hand on his chest. "And we know how vital it is to command from a strong heart. It is time you did so."
Excerpt. © Reprinted by permission. All rights reserved.


Book Info:
This duke is not you average bear…
The prince regent insists his cousin and fellow bear Shifter, Arthur Humphries, the Duke of Osborn, take a mate to ensure the continuation of their species. After all, Arthur is an Alpha, so he must set a good example. The duke would very much prefer to continue his comfortable bachelor lifestyle, but the Prince Regent is not a bear to be poked.
Beatrice, the widowed Marchioness of Castleton, is in possession of a powerful secret. She knows all about Shifters, her horrible late husband being one of them. At any moment, Beatrice could take advantage of her power over the prince and those like him — that is, unless her own life becomes entangled with them once again.
Perhaps a marriage between the Duke of Osborn and Beatrice would resolve these troublesome issues. Far from ideal, but as long as they set clear boundaries, at least they won't fall in love… right?
Book Links: Book Links: Amazon | B&N | iTunes | kobo | Google |


Meet the Author:
Susanna is a graduate of Pratt Institute with a BFA in Communication Design and counts The Village Voice, New York Magazine, and Entertainment Weekly as past design experiences. Born in New Jersey, she moved to Ireland for twelve months—in 1998. She is the author of the Shapeshifters of the Beau Monde series, published by Sourcebooks: A Wolf in Duke's Clothing, an Amazon Editor's Best Book of the Month, is available now; A Most Unusual Duke debuts in December 2021.

Writing as Susan Conley, she is the author of Drama Queen and The Fidelity Project, both published by Headline UK; Many Brave Fools: A Story of Addiction, Dysfunction, Codependency…and Horses is available from Trafalgar Square Books. Susanna is living her life by the three Rs—reading, writing, and horseback riding—and can generally be found on her sofa with her e-reader, gazing out a window and thinking about made-up people, or cantering around in circles. She loves every minute of it.
Website | Facebook | Twitter | Instagram | GoodReads |