Lost Lyric by Cari Quinn and Taryn Elliott is book four in the Found in Oblivion Series and revolves around Ryan Walters and Denver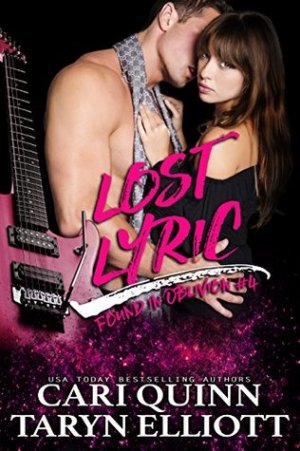 Casey.
Denver is the bus driver for Warning Sign. She's also best friends with Ryan from the band. When Ryan goes missing, Denver tracks him down and finds him beat up in an alley because he was counting cards. He doesn't want everyone to start asking questions, so they get a hotel room for the night. The sexual tension between them is really high and before they know it, lines are crossed.
"Getting overheated, baby?" he asked under his breath.
"You're about to cross a line," she said, just as low. "You're going to want to tread gently."
"Oh yeah? And what if I don't" he leaned in for a second, so fast she barely had a chance to react. "You going to come all over my mouth again?"
Denver had a bad experience with a past relationship, so she's afraid of her feelings for Ryan. She tries to put them back into the friend zone, but Ryan is persistent and their feelings for each other just can't be ignored.
These two are really hot together and it's clear that neither will be satisfied if they go back to only being best friends. But when Denver's past comes for her and Ryan's gambling gets out of hand, will they have a future together?
If you love romances with Rockstars and enjoy romances between best friends, this is the story for you. Even though this book four, you don't need to read the previous books in the series, but the previous books are worth the read, as well. Overall, another great addition to a HOT series!

Book Info:

Publication: May 12th 2017 | Rainbow Rage Publishing | Lost in Oblivion Series #4
He's her good boy gone bad…
Rockstar Ryan Waters has always been the responsible one in his band, Warning Sign. The guy who kept an eye on business while chasing his musical dreams with his best friends. And his closest friend lately just happens to be their tour bus driver, Denver Casey.
Denver Casey is on the run from her past, and she's careful to stay within her boundaries. Until Ryan becomes her partner in crime and one by one, those boundaries start to crumble. He's the exact opposite from the guy she's tried so desperately to leave behind.
Then Ryan turns up missing. And her terror that he's hurt—or worse—leads to something dark and intoxicating. They both love adrenaline, except this time, the addiction is each other.
Falling for her best friend means putting everything on the line, win or lose. But if her hidden past comes back to haunt them, she might also end up risking her life.
And Ryan's.