In Lost Without You by Heather Thurmeier, Zoe Oliver has been on two reality TV shows before and has always been seen as the bad girl. Now she has gone on her third TV show since she was promised a payday and a way to redeem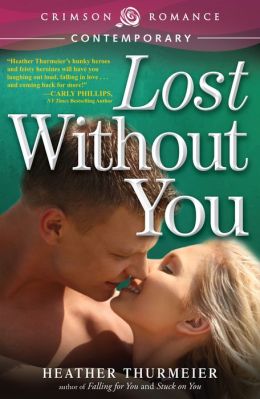 herself on TV, only to find out that this time she is not a contestant but the host. But what she doesn't expect is that she will be close to Chip the entire time while roughing it in the woods where the commodities she is used to are not anywhere close enough.
Chip has wanted to get close to Zoe since the first time that he saw her picture for the audition of The One. But as the producer it would have been unethical if he would have acted on his feelings. Now he has made sure that she is within range as the host, all he has to do is to convince her to give them a chance.
Zoe has a past that she has been hiding from since she was a teenager, and she will do just about everything to keep it hidden. But how far is she willing to go and how much is she willing to risk to keep it hidden, for if she falls for the threats of a blackmailer who knows the truth she has been hiding, she may just end up ruining the show and loosing her chance at true love. But it's not all up to her, Chip will have to show a lot determination and strength if he is going to fight for her love.
If you have read the previous books in this series, Zoe may have gotten on your nerves, but there were always clues about her vulnerabilities hidden there. In this book we will learn the truth behind Zoe's actions and get to know the true woman she hides behind the façade. So make sure that you don't miss Lost Without You by Heather Thurmeier to find out for yourself.
Book Info

Publisher: Crimson Romance (July 1, 2013)
Zoe Oliver never wanted to be on another reality TV show . . . until Chip Cormack made an offer too good to refuse. He's guaranteed her a payday this time and a chance to redeem herself in America's eyes. But Zoe worries she won't be able to focus as her desire for Chip grows and her strength to resist him weakens. When she learns she'll be roughing it in the woods with Chip and without luxuries like indoor plumbing and electricity, she's instantly on edge, feeling naked and terrified that her scars will be exposed and her secrets revealed. When Zoe's past turns up on the show, she fears she'll lose not only the life she's sacrificed everything else to have, but also the affections of the only man she's ever trusted with her heart.
Sensuality Level: Sensual