In Love and Other Words by Christina Lauren, Pediatrics resident Macy Sorensen should be on top of the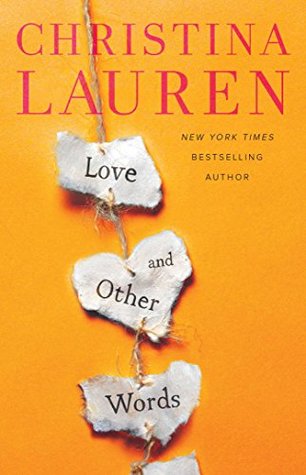 world. She's finally working in the field she's spent years going to school for and she's also getting married to a handsome, slightly older, man. Okay, so they haven't set a wedding date yet. Nor have they actually discussed anything about the wedding itself. But that's a big step up for someone as emotionally stunted as she is, considering she's still basically recovering from the childhood loss of first her mother and then later, her father. But all it takes is one chance meeting when she finds herself staring into the beautiful eyes of her former teenage love, Elliot Petropoulos, and everything she's worked towards gets thrown into chaos.
'I haven't been *living* without him. I've been merely surviving.
I want to share this life with him somehow. I just…have no idea how that looks.'
It's been eleven challenging years since Macy and Elliot have seen each other. And there is a whole mountain of bad feelings, confusion, and hurt to get through before they can even think to start over again, let alone become the close friends they once were. Communication used to be their forte, telling each other everything, including their favorite words and what was going on in their everyday lives. But one tragic night changed Macy's teenage world forever, just as she and Elliot were confessing their love for each other. He might not understand exactly what happened that night but she knows it's time to lay it all out there, whether she wants to or not. Confused and not knowing where her heart will take her, Macy is once again on the brink of some major changes in her life. Hopefully this time, though, it will be choices of her own making.
"Your favorite word?" he whispers.
I don't even hesitate. "You."
Love and Other Words was absolutely sweet torture. Seriously. Only dynamic duo Christina Lauren could make me so anxious about what went wrong to tear apart a perfect teenage couple, and yet still managed to make me laugh and sigh happily along the way.
'The past decade seems like a foggy blur, like we took a long road trip from one point of the earth and back again, traveling in a wide circle, destined to end up here.'
I was intrigued when I heard a new novel–a women's fiction novel, no less–was being released by Christina Lauren. Now I'm a huge fan of, well, everything they've put out so I had a feeling Love and Other Words would be no different. I must say that they really outdid themselves here. Told from Macy's POV with a dual timeline, I can't even begin to describe how expertly they plotted this story out. Basically, each event that happened in Macy's adult life at present synced up perfectly with the flashback passages from her teen years, all leading up to the big betrayal/breakup between her and Elliot. And we had to wait until almost the very end of the book to find out the exact details. *But* Macy and Elliot's HEA was totally swoon-worthy and completely worth every exasperating moment leading up to it. See what I mean? Sweet torture.
As with Christina Lauren's other books, I adored the characters we met in Love and Other Words. Macy was awesome. She was flawed, relatable and genuine, highly intelligent, strong yet closed off emotionally. I felt so bad for her having lost her parents (at different times in her childhood) and how much it set her adrift in her life. Elliot was her tether to the present. He kept her grounded yet lifted her emotionally and intellectually. He was another terrific hero in a long line of great heroes by this writing team, and he was oh so lickable, er–I mean, likable. (lol) Elliot had that whole geek chic beta hero thing going on and he was such a nice guy. I loved watching him and Macy dance around their attraction, with all the fun bumbling teenage moments we got to see as they fell in love. Their breakup was heartbreaking, miscommunication playing a big part, as with most teenage relationships. But I have a feeling that it made them treasure finding each other again as adults, realizing that they truly were meant to be.
This engrossing book is why Christina Lauren remains on my autobuy list. From the lovable cast to the realistic situations and the lively dialogue, everything about their writing works for me. I think readers will fall hopelessly for Macy and Elliot and will cheer them on right from the start.

Book Info:

Publication: April 10th 2018 | Gallery Books |
The heart may hide, but it never forgets.
The first women's fiction novel from New York Times and #1 international bestselling author Christina Lauren (Autoboyography, Dating You / Hating You).
Macy Sorensen is settling into an ambitious if emotionally tepid routine: work hard as a new pediatrics resident, plan her wedding to an older, financially secure man, keep her head down and heart tucked away.
But when she runs into Elliot Petropoulos—the first and only love of her life—the careful bubble she's constructed begins to dissolve. Once upon a time, Elliot was Macy's entire world—growing from her gangly teen friend into the man who coaxed her heart open again after the loss of her mother…only to break it on the very night he declared his love for her.
Told in alternating timelines between Then and Now, teenage Elliot and Macy grow from friends to much more—spending weekends and lazy summers together in a house outside of San Francisco reading books, sharing favorite words, and talking through their growing pains and triumphs. As adults, they have become strangers to one another until their chance reunion. Although their memories are obscured by the agony of what happened that night so many years ago, Elliot will come to understand the truth behind Macy's decade-long silence, and will have to overcome the past and himself to revive her faith in the possibility of an all-consuming love.