In Love Bites by Ophelia London, Sharona Blaire is not exactly the happiest for her latest assignment requires her to go to Australia almost last minute to do an audit. Even if she is happy just to get away from her ex, whom she happens to work with and now for. Not to mention that she has to get on a ship on an expedition for sharks, something that she is really afraid of. But she will enjoy her one free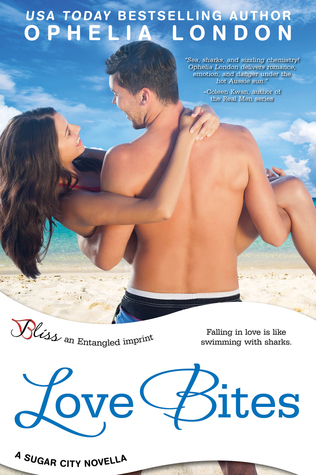 night before she has to do her audit and then fly back to the US.
But things don't exactly go as she planned, beginning with her spilling her drink on a man on the plane and being told off by the stewardess and taken back to her seat before she can apologize. Then when she arrives at the hotel she once again spills her drink on a complete stranger in the bar. But one thing leads to another, and while they begin with a little flirting, they end the night together without either of them knowing the other's name or reason for being in Australia.
Jeff Cruz had a great night with the lady from the bar, but he is not looking forward to being audited during one of his crew's most important expedition. As a marine biologist, this expedition can make a big difference in future research and will make his efforts and those of his crew worth everything they have been having to go through in the past.
But one thing that he doesn't do, is trust any woman after his last girlfriend stole his invention. Now he is guarding everything as close to his chest as he can. Yet, with Sharona he doesn't want to distrust her, but her being there to audit during one of his most crucial expeditions he doesn't know what to do. Then to make things worst, there is a college guy tagging along to do an article for a newspaper. A guy that then tells him enough that he believes Sharona is using him.
If Jeff wants to have the happiness he felt while he was with Sharona, even if it was for one day, he will have to figure out if she was really at fault or if his trust issues are destroying something really important in his life. While Sharona will have to decide what she will do when she returns home, since she is not very sure she want to continue working for her ex.
All I can say is that I have not always been a fan of sharks, but Ophelia London has given me a new perspective of them with her book. And of course of love bites, both the ones of sharks, and the one that Sharona gives Jeff. 😉
If you want a sweet and entertaining read, don't miss Love Bites by Ophelia London.
Book Info:

Published August 18th 2014 by Entangled Bliss
Falling in love is like swimming with sharks…
Sharona Blaire is only in Australia for a business audit, but she's determined to make the most of her one free night. So when she spills her drink on a handsome stranger and they end up flirting, she does something completely out of character—she kisses him. But the prospect of taking it further totally freaks her out…almost as much as discovering the next morning that the man she's auditing is the sexy, tanned stranger she left with zero explanation.
An audit during his crew's most important expedition yet is a complication marine biologist Jeff Cruz doesn't need—especially when the auditor is the gorgeous, fascinating woman from the night before. Out at sea with nowhere to run, he's forced to admit Sharona draws him in like a shark to blood. But Jeff's one passion is his job, and nothing—not even love—will get its hooks in him…