Love in Plain Sight is my first Jeanie London book, but it won't be my last! I have four basic criteria that make a romance novel great to me: main characters I care about; unique ways of throwing the main characters together (and real impediments to their being together–aka, plot); a sweet reveal of their true feelings for each other, and; make me feel as if I haven't missed out on the best part of the journey. Love in Plain Sight meets most of my criteria.
"Love changes everything. It's everywhere. You just have to look. Sometimes, it hides, so you have to look hard. But open your eyes really big."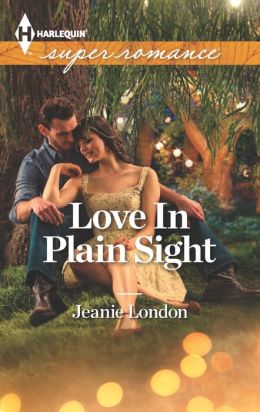 Courtney Gerard is a case worker for the New Orleans Department of Children and Family Services who finds herself in the middle of a horrifying mix-up: somehow in the aftermath of Hurricane Katrina, Araceli Ruiz-Ortiz, an eight year old girl, disappeared. The girl that they have been checking in with is not the real Araceli. Worse, the storm was eight years ago, and they don't know when the switch occurred. The FBI gets involved and puts Courtney, who's only been working "Araceli's" file for a few months, on administrative leave while they sort things out. With her supervisor's and dead co-worker's reputations on the line, Courtney can't just stand by and do nothing. That's when she remembers Marc DiLeo.
"She had only meant to consult with this man, to be advised about how to proceed. Now she had her very own bounty hunter, broken though he was, and she had no clue about what came next."
Marc DiLeo is a Bounty Hunter specializing in capturing rich "skips"–or he was, before an accident shattered his leg and sidelined him. Forced back to New Orleans by his loving but bullying family, he's leading a bitter, grumpy existence of pain pills and physical therapy. He doesn't want to help Courtney find Araceli, but he's willing to work with her if it gets him out from under his mother and four brothers for a while.
While chasing down clues and following leads, the attraction between the two grows. With all of the issues they are both dealing with, both Courtney and Marc know it's best to ignore their awareness of each other. There's a teenaged girl to find, not a romance. Could both be hiding in plain sight?
I loved Courtney and Marc! Courtney cared so much about the children she was responsible for and the people she worked with that she was willing to go behind the FBI's back to clear her Department's reputation and find a missing girl. Jeanie London saves Courtney from goody two shoes flatness by giving her pluck. She is kindhearted, but she's not going to let anything stand in the way of finding Araceli, not even how bitter and angry Marc is about his limitations. Marc doesn't devolve into "that guy"–you know, the one that's so bad you don't want him to end up with the heroine. It's easy to see that Marc has a soft spot, some tenderness. I thought that London did a great job of interweaving Araceli's story with the story of Courtney and Marc. I thought the plot was an inspired choice: I never would have thought of it, but it managed to be realistic at the same time. I didn't get my sweet reveal of their feelings for one another, which disappointed me a bit. Without giving anything away, everyone knows they love each other, but there aren't any grand declarations. That type of thing wouldn't fit with this book, so it was a good choice not to include it. Lastly, I feel like I got to be along for all the best parts of their story. I know what happens next, and I think I can trust them not to screw it up when I'm not looking.
I would recommend this book to a reader who enjoys a little mystery with their romance, someone who loves New Orleans as much as I do, and someone who likes well developed characters, bossy relatives, sweetheart heroines, and bad boys with a heart of gold.
Book Info

Publication Date: September 3, 2013 | Series: Harlequin Superromance (Book 1873)
Right in front of her eyes…Former bounty hunter Marc DiLeo is 
not
 the guy social worker Courtney Gerard wants helping her. But finding a kid who's been missing for a long time takes priority over her personal preferences. And if anyone can locate the child, Marc can—even with his injury. So she'll overlook his attitude.
As they follow cold leads together, Courtney glimpses beneath his tough exterior to something surprising—caring, compassion…vulnerability. That softer side proves more irresistible than his good looks. An unexpected—and unexpectedly intense—attraction flares between them, making her wonder why she never saw this before. Suddenly the man she was determined to avoid is the only man she wants close!