One Night in the Spa by Kathy Lyons: Former professional racquetball player Kim Castillo was at the top of her game when she tore her ACL and could no longer compete. Rigorously working-out for over a decade, stopped her body from developing into a complete woman during her teenage years. Now that she is no longer training, Kim is shocked to learn that at twenty-four and a half years old,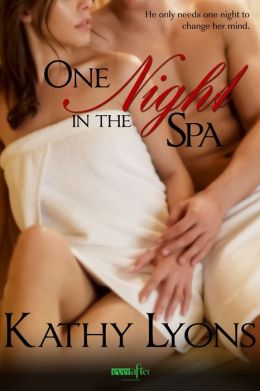 her body is going through the final stages of puberty. Her hormones are raging, she is irritable, and she is lustful almost all of the time. Kim has become sexually aware and she is beginning to notice her best friend David in a totally new way.
Handsome David Pepke has been Kim's best friend for three years. Actually, he is in love with her and desperately wants her to return his feelings. They share everything and David has even gotten her to open up about a horrible incident that happened to her and her father when she was a young girl. He is part owner and manager of the Pamper Me Spa, which is located next door to John's Fitness, which Kim manages full-time. Kim has two important things in her life, David and her job. David's friendship means everything to Kim and she would be lost without it. Unbeknownst to Kim, David's company wants to buy John's Fitness, but poor financial results have prevented that from happening.
Romance and sex never played an important role in Kim's life. She dated, shared a few heavy make-out sessions, but never had a true desire for sex. Now, sex is all Kim can think about and David is more than happy to show her the ropes and satisfy her needs. Thus, changing their relationship from best friends into lovers. David slowly seduces Kim on the massage table and they both experience mind-blowing, passionate sex. However, Kim is having trouble adjusting to her new body, her sexuality and feeling more for David than just friendship. David needs to let Kim know about the the status of John's Fitness so that they can evolve their friendship into an honest relationship.
I enjoyed this charming, original and passionate read. It is well-written with excellent character development. I especially enjoyed Kim's character because her innocence was identifiable as well as entertaining. If you are looking for a delightful novella with some depth and steam, give this short-story a try.
Book Info

Publisher: Entangled: Ever After (August 26, 2013)
What starts out as a simple massage treatment for spa manager David's best friend Kim, turns into a night of seduction and sexual discovery.
Always relegated to the friend zone, David is determined to show Kim what she's been missing…one erogenous zone at a time. Sure, their friendship is on the line. And sure, David's hiding a motive larger than either him or Kim. But the second his hands touch her smooth skin, he just doesn't care anymore.
Kim's been so focused on the loss of her sports career that she's had no time for romance or sex. But her response to David can't be denied. Is it just that her body's been missing out, or could her heart be involved too?