Love Is a Rogue by Lenora Bell  is the first book in the Wallflowers vs. Rogues series. The series looked promising and the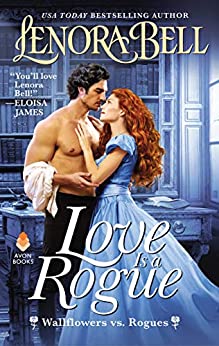 book sounded great, but I was a little disappointed after reading it. I normally love books by this author, but this book's pace dragged, and was hard for me to stay focused long enough to finish the book. In certain areas of the book, the dialogue felt forced, not natural or effortless. The storyline was solid and the threat of Mr. Foxton stopping Beatrice's dream of turning the bookstore into a clubhouse added a fair degree of intrigue and interest to the story.
Lady Beatrice Bentley was determined to avoid marriage and become a spinster. She convinced her mother that she would attend the next season if she could spend the summer at her brother's Cornwell estates working on her etymological dictionary. Her progress with her dictionary was thwarted by Stamford "Ford" Wright, the handsome carpenter her brother had hired to make repairs to the estate. She had a list of complaints about his disruptions for her brother when he returned to England. Although most of the disruptions were her own fault since she seemed to enjoy watching him through the library window while he was working. Inheriting a bookstore filled with old books from her unknown aunt gave Beatrice a place to have peace from her mother and her matchmaking.
Ford was a carpenter in the Navy and was waiting to leave England when his ship was finished. He was helping to repair Thornhill's house while his dad was recuperating from his fall off a ladder. He thought Beatrice was just another society miss and wanted nothing to do with her, but he needed to speak with her brother before he left England. His own mother's family had disinherited her after she married Ford's dad and Ford had no desire to be involved with anyone from Society. He was outmaneuvered when Beatrice and her friends took him to examine her bookstore. When Mr. Foxton, his mother's dad, arrived at the bookstore determined to buy Beatrice's bookstore or have the building condemned, Ford thought helping Beatrice would be good revenge towards his grandfather. As they worked to repair the bookshop Ford comes to realize that Beatrice isn't like other society women and keeping his distance becomes harder. He understands they have no future together but Beatrice won't give up.
I liked the storyline, but I couldn't seem to connect with Beatrice. She gave me the impression of being selfish. For instance, she gripped and made a list of complaints for her brother when Ford was working at their country estate but once she needed him to work on her bookstore, she had no complaints. She always got her way by maneuvering her mother into making deals. Ford was a likable hero and was easy to fall in love with. Overall, the Mayfair Ladies Knitting League has several interesting members for future books so I'm hoping the series gets better.
Book Info:

Publication: October 27th 2020 | Avon | Wallflowers vs. Rogues #1
Once upon a time in Mayfair, a group of wallflowers formed a secret society with goals that had absolutely nothing to do with matrimony. Their most troublesome obstacle? Rogues!
They call her Beastly Beatrice.
Wallflower Lady Beatrice Bentley longs to remain in the wilds of Cornwall to complete her etymological dictionary. Too bad her brother's Gothic mansion is under renovation. How can she work with an annoyingly arrogant and too-handsome rogue swinging a hammer nearby?
Rogue. Scoundrel. Call him anything you like as long as you pay him.
Navy man Stamford Wright is leaving England soon, and renovating Thornhill House is just a job. It's not about the duke's bookish sister or her fiery copper hair. Or the etymology lessons the prim-yet-alluring lady insists on giving him. Or the forbidden things he'd love to teach her.
They say never mix business with pleasure. But when Beatrice and Ford aren't arguing, they're kissing.
Sometimes, temptation proves too strong to resist…even if the cost is a heart.