Here to Stay by Adriana Herrera finds Julia del Mar Ortiz in Texas, having relocated from New York City for her boyfriend,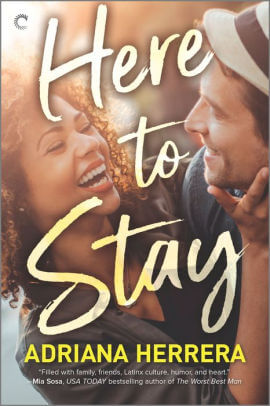 who promptly leaves her. Stuck in Texas, she finds her dream job working as a director for a charitable foundation. Her job, and the foundation, are in danger, as one of the owners of the company wants to take the company public, and that means eliminating the foundation to make the business look more attractive as an IPO.
Rocco Quinn, a fellow New Yorker, is in Texas to evaluate the company and the foundation to see what would cuts would help the company become public. Rocco knows how important the foundation is, but he's stuck in a hard place. Some people don't want the IPO, but if he goes against it, he will most likely lose his job and the promotion he needs in order to care for his younger sister and young niece.
Julia, not having any friends in Texas, organizes a group called the Gotham Exiles Club, inviting people from the company and the foundation who were originally from New York out for drinks. Rocco's co-worker, Tariq, is invited and he invites Rocco as well. Julia and Rocco start a tentative friendship, which blooms into a romantic relationship. When it's time for Rocco to give his recommendations to the board, will their relationship be able to survive the aftermath?
I'll be honest and say I had a really hard time with this book. It was to the point I almost gave up reading it. The first part of the book is mainly about Julia's starting the Exiles, background about Julia, the foundation, what was going on in the company, and an introduction to the other fellow New Yorkers. It moved slowly, very slowly. I'll admit I was bored; I ended up skimming through a portion of the first half of the book.
Things pick up in the second half of the book. Rocco and Julia finally do something about their feelings for one another, readers are introduced to both of their families, and things heat up at the office and the foundation. I still had issues with it at this point, though. The book started to feel too rushed, as if suddenly everything needed to be squeezed into the last half of the book. There's a situation at the foundation where one of the directors almost gets one of the families they're helping deported, yet there's not mention of the aftermath. This woman previously violated the foundations rules, and she's not punished. Then this happens and suddenly it's dropped with no real resolution. I understand it was probably thrown in there so the company would have more ammunition to stop supporting the foundation, but I would have liked to have seen how things were handled with this woman.
Another thing that drove me crazy was the fact that it seemed like every character was sucking their teeth. I would understand if it was a character trait of one person, but for multiple characters to do it? It felt like an overused action. I eventually found myself asking what everyone's issue was with their teeth that they kept sucking on them. Here are a couple of examples:
He sucked his teeth, and I could practically see his eyes rolling.

I took a deep breath and looked over at Julia, who sucked her teeth.=
I'm sure there are people who can overlook the issues I had and will love this book. I wanted to love it; I was really interested in the concept of the story. Unfortunately, the way the book was executed just didn't work for me.
Book Info:

Publication: August 25, 2020 | Carina Press |
Julia del Mar Ortiz is not having the best year.
She moved to Dallas with her boyfriend, who ended up ditching her and running back to New York after only a few weeks. Left with a massive—by NYC standards, anyway—apartment and a car lease in the scorching Texas heat, Julia is struggling…except that's not completely true. Running the charitable foundation of one of the most iconic high fashion department stores in the world is serious #lifegoals.
It's more than enough to make her want to stick it out down South.
The only monkey wrench in Julia's plans is the blue-eyed, smart-mouthed consultant the store hired to take them public. Fellow New Yorker Rocco Quinn's first order of business? Putting Julia's job on the chopping block.
When Julia is tasked with making sure Rocco sees how valuable the programs she runs are, she's caught between a rock and a very hard set of abs. Because Rocco Quinn is almost impossible to hate—and even harder to resist.