In Loving You Always by Peggy Gaddis, Gerry and Tip got married at a young age, but after ten days of marriage Tip was sent overseas to the war. Soon after he was declared dead leaving his young wife a widow and with his mother who blamed her for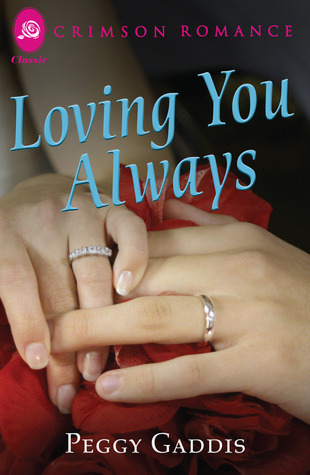 Tip's death. His mother never accepted Gerry because of her poor family.
Now a few years later, Gerry works as a secretary and lives with her parents. But she has not dated anyone, since everyone in town still worships the story of the war hero and she doesn't believe that she should make a new life. When her boss asks her to lunch, she is afraid of what people will say, but Gerry has had feeling for him for a while now.
But when she finally decides to move on and get engaged to him, her husband reappears. He was a prisoner in war and now he is returning home to his beautiful wife. Only she doesn't love him anymore and her new love will have to be put aside in order to continue a charade of the young love she once had.
Gerry will not have an easy time, but she will have to face the truth of her feelings sooner or later, unless she wants to live an unhappy life with Trip and make his life just as unhappy.
A sweet and heartbreaking story, Loving You Always by Peggy Gaddis will have you cheering Gerry on and then getting mad at her for doing what her mother in law wants instead of doing what is right. But in the end love always triumphs.
Book Info:

October 21st 2013 by Crimson Romance
Loving you always was the way they'd thought it would be. But ten days after they were married Tip was sent overseas, and soon tragedy struck—he was reported dead in action. Now Gerry Parker, his beautiful young widow, is through with mourning; she is ready to begin life with a new man. Then comes the blow that rips her from the arms of the man she had grown to love: Tip is alive and returning to retrieve the past with the girl he'd married—a girl who no longer loves him!