Lucas by Sawyer Bennett: When newest member of the Cold Fury hockey team, Lucas Fournier, attends a charity event, he meets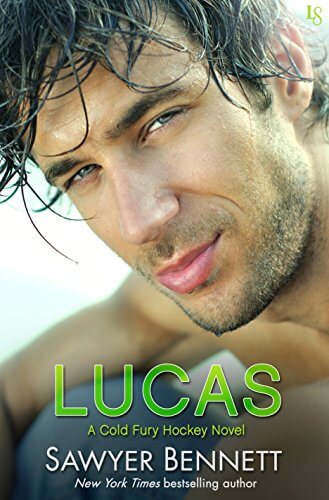 museum curator Stephanie Frazier. There's instant lust, and what was supposed to be a one night stand ended having some consequences for the pair.
I liked Lucas. At first he wasn't thrilled at the prospect of becoming a father, but he really steps up to the plate. No matter how hard Stephanie tries to keep him at arm's length, he's determined to get to know her and see if they can become more than strangers.
I wanted to like Stephanie. While I felt sorry for the way she had grown up, the way she kept pushing Lucas away got frustrating at points. But it wasn't just with Lucas; she keeps everyone at a distance. Still, Lucas kept going back and trying to get her to open up a little.
"I think she is happy for what she knows happiness to be. I think she's content with her life and she's accepted it. I don't get that she's overly bitter or angry, it's just made her closed off from her feelings."
The author sets up the next book in the epilogue, which will be Lucas's teammate, Van, and his sister, Simone. It will be interesting to how that goes over with Lucas and his brother, Max, who also plays for Cold Fury.
This is the eighth book in the series but it can be read as a standalone. While it wasn't my favorite book of the series, it was still a good read and I would recommend it to those who enjoy hockey romances.
Book Info:

Publication: September 19, 2017 | Loveswept | Cold Fury Hockey #8
Lucas Fournier is only serious about one thing: hockey. The league's fun-loving charmer, Luc is always up for a good prank or a great lay, and he has no intention of settling down. But being traded to the Carolina Cold Fury—and to play alongside his big brother, Max—is no joke. With another title in sight, the last thing Luc wants is to let his new teammates down. To succeed, Luc will need to keep his head in the game and the most . . . er, demanding member of his anatomy in check. But when temptation hits, Luc hits back harder.
Museum curator Stephanie Frazier has always put business before pleasure, which just about explains her nonexistent sex life. But when Stephanie meets Luc at a champagne-fueled gala, she finds herself flirting like crazy—and going home with the uninhibited athlete. For one night, she learns what passion is all about. She just never counted on the little surprise Luc leaves behind. And that's when things really start to get . . . interesting.