In Luck of the Devil (The Forge Trilogy #2) by Meghan March, India "Indy" Baptiste's skills as a poker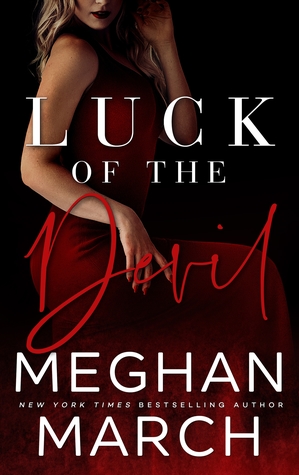 player are legendary. And there's not many people who can best her at the game, except maybe Jericho Forge. The piratical shipping magnate not only took her world by storm when he won a huge bet against her at the poker table, but somehow he's managed to steal Indy's attention as well. The attraction between them is undeniable. But the more she gets to know the delectable man, the more she wonders if she can trust him–or his motives.
"You won't ever bend or change. You don't know how, Forge. You always get your way, even if it means bulldozing anything standing in your path."
Indy has been on Jericho's mind since seeing her for the first time at a high stakes poker game, outwitting everyone around her and blinding them with her beauty. His plans might have started out taking them down a different path together originally, but now that he has her in his sights, he's not planning to give her up. Although convincing the outspoken woman could take some doing. Especially considering he knows a few secrets that could forever alter her world if he should give in and divulge the information.
'I've never given much thought to settling down or having priorities other than my business, but that's changed too. All because of the woman in my arms.'
The Forge Trilogy just keeps getting hotter and more intriguing. Luck of the Devil, the second explosive installment, finished with a shocker of a cliffhanger after Meghan March doled out some much needed answers and did a fantastic job building up the connection between our main characters.
'I want to slay fucking dragons for this woman–even though I'm one of them.'
First off, I highly suggest you read this trilogy in sequential order where the first two books will have cliffhangers and the plot builds with each installment. Secondly, oh my goodness did so much happen in Luck of the Devil. Lots of good stuff but also some not so good things for our couple as well. But what I loved to see was how Jericho and Indy grew together as a pair and how through getting to know each other better, our sexy billionaire was able to show a new side of himself to his card sharp, kickass woman.
When book one, Deal with the Devil ended, I honestly wasn't sure what to think of Jericho Forge. He was certainly a beast of a guy, a shrewd businessman, and extremely charismatic when he wanted to be. But where did his loyalty truly lie? Well, we found out here and it was a bit more than I was expecting, including the lowdown on his rough beginnings. Without giving away spoilers, I can say Jericho will always be a pirate first (lol) but by the end of this book I think you'll be swooning over his actions in regard to Indy. And Indy herself, I thought, started to truly come into her own and began to think of herself and her future instead of just that of her sister for once. She was still strong and capable as ever, but Indy also showed a softer side around Jericho. Even though it meant she would be more vulnerable emotionally.
Seductive romance and a pulse-racing storyline made Luck of the Devil a thrill to read. Wrapped around the issues we all face: trust, friendship, love, family, Meghan March knows just how to draw a reader in to her enticing stories.

Book Info:

Publication: February 12th 2019 | Pub: Meghan March LLC | The Forge Trilogy #2
New York Times bestselling author Meghan March continues the story of ruthless, calculating billionaire Jericho Forge in Luck of the Devil.
My poker face has always been one of my greatest assets, along with my grit and determination. I was beholden to no one. Asked permission for nothing.
Then Jericho Forge took my life by storm.
I traded my freedom for something infinitely more precious, but I didn't realize he was holding an unbeatable hand.
Now, all I have to do is survive the high-stakes game that is my life—with my heart intact.
But not falling in love with Forge? That will take the luck of the devil.
Luck of the Devil is the second book of the Forge Trilogy, and should be read following Deal with the Devil. The Forge Trilogy concludes in Heart of the Devil.