In MacRieve (Immortals After Dark #13) by Kresley Cole, Uilleam "Will" MacRieve is a warrior who has lived and learned for many centuries, yet he still can't let go of painful events from his childhood. Those horrors have shaped who he has become today: a tormented Scottsman who would rather let his shapeshifter self take control than deal with hurtful emotions on his own. MacRieve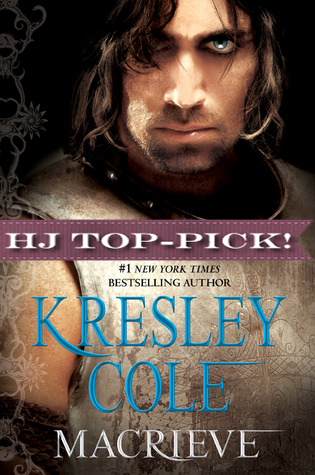 never thought he would find his mate and has been glad he hasn't yet found her, thinking himself so damaged that no one would ever want him.
'Sometimes it was just easier to let the beast take over. Like a drug. Any time he was under duress, it surfaced, raring to take the pain for him.'
While seeking revenge against an entity hurting immortals like himself, he finds the woman he is destined to be with and instinctively knows he must keep her from harm. They battle outside forces to explore their fledgling romance only to find themselves having to wage their own private war with their pasts and emotions. MacRieve is more confused than ever before, both loving and hating Chloe at the same time. How could the fates be so cruel after all he's been through?
'For Will, she was a fantasy made flesh–and a nightmare.'
Focused on her soccer career, Chloe Todd has never had time for dating. But lately men have been on her mind and she's noticed some other physical changes. She's taken from her home while her father is away on business and Chloe ends up for sale to the highest bidder at a witch auction. She only just learned about the Lore and wasn't entirely sure it really existed. Until now. Frightened for her life and what will happen next, Chloe is whisked away by a huge brute of a man with a sexy accent.
'She whimpered. Not fair, and he knew it! His brogue plus dirty words equaled Chloe about to orgasm.'
MacRieve keeps explaining to her that they are destined to be together and his job is protect and provide for her. But that changes her plans to enter the Olympics and advance her career. Chloe soon has more problems than soccer when her physical changes become the catalyst for a shift in their relationship. Now she has to worry about not only her safety but her heart as well.
"Sleep, lass. Heal. We'll work all this out tomorrow." He leaned in to gently press his lips to hers, and she let him, even sighing.
His first kiss in centuries. In Gaelic, he told her, "Our last first kiss."
Kresley Cole is a powerhouse in the paranormal genre. And her new novel MacRieve is a dark, dangerous addition to the Immortals After Dark series. This story delves into situations and emotions that may not always be pretty, but they are very raw and real. She of course has included some wonderful lighthearted moments in the plot along with a bit of humorous dialogue to keep it from getting too overwhelming. As you can probably tell from above, she's also a very quotable author!
The relationship between MacRieve and Chloe is very complicated, to say the least. Between events from his past, and her confusing family issues, they have so much to overcome. I enjoyed the playful ebb and flow between them as they are both very strong, independent people. Relationships are new to them both. Chloe is in her mid-twenties with little to no experience, and MacRieve may be centuries old, but he's never allowed himself to get attached to a female. There's a very big learning curve for them and they learn (the hard way) that communication is key.
The love scenes are dynamic, dirty and very, very hot! Again, Kresley uses both humor and strong emotions to draw us into the plot. The chemistry is palpable between Chloe and MacRieve, and even though they are looking at the situation from different perspectives, they are equally intense. Add in an exotic location and you have some definite sigh-worthy moments.
I highly recommend MacRieve for all of you paranormal romance lovers out there like myself. You can't go wrong with the Immortals After Dark series!
Book Info:

Published July 2nd 2013 by Gallery Books | Immortals After Dark #13
In this pulse-pounding Immortals After Dark tale, #1 New York Times bestselling author Kresley Cole delves into the darkest mysteries and deepest passions of Clan MacRieve. . .
A Beast In Torment
Uilleam MacRieve believed he'd laid to rest the ghosts of his boyhood. But when a brutal torture revives those ancient agonies and destroys his Lykae instinct, the proud Scot craves the oblivion of death. Until he finds her—a young human so full of spirit and courage that she pulls him back from the brink.
A Beauty In Chains
Seized for the auction block, Chloe Todd is forced to enter a terrifying new world of monsters and lore as a bound slave. When offered up to creatures of the dark, she fears she won't last the night. Until she's claimed by him—a tormented immortal with heartbreaking eyes, whose touch sets her blood on fire.
A Full Moon On The Rise
With enemies circling, MacRieve spirits Chloe away to the isolated Highland keep of his youth. But once he takes her to his bed, his sensual mate becomes something more than human, evoking his savage past and testing his sanity. On the cusp of the full moon, can he conquer his worst nightmare to save Chloe . . . from himself?