Make Me Forget by Beth Kery: Jacob Latimer is a rich, sexy, mysterious,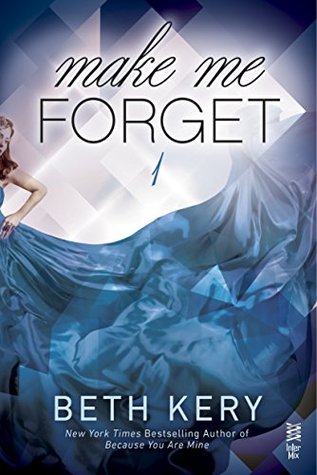 paranoid, and very private tech genius. He's avoided anyone discovering the truth of his past and exactly how he's achieved his success. He overcame a rough childhood and became very successful under circumstances that some question. Harper McFaddan is insatiably curious, which has served her well in her very successful career as a reporter. After her parents death, she's looking for a change of pace.
After a chance meeting, Harper is drawn into Jacob's world. She feels this unexpected connection and wants to delve past his boundaries. Harper sees another side to the enigmatic billionaire; she sees him as being generous, caring, solicitous, but also vulnerable at times. Jacob is drawn to Harper despite knowing that she's trouble for him.
"I don't like complications."
"And you don't think I'll give you any?" she wondered in amazement.
"I think in your case, the complications are unavoidable," he replied, his voice deep and rich and weighty in the still night air.
Jacob and Harper have sizzling chemistry. Even as Jacob and Harper become closer, she finds that he remains closed off about his past. Jacob will question her about her own past, but he refuses to exchange histories. It doesn't help that he tends to run hot and cold, leaving Harper confused about their relationship and her place in his life, even as he pushes her boundaries.
"Would you like me to go easier on you?"
"No," she said, shaking her head. Her smile faded. "Of course I'm wondering about it. I don't really know how the mind of a brilliant, billionaire software magnate works."
"Neither do I. Is there a handbook?"
Make Me gives you hints at the deeper story while keeping you engaged. Beth Kery writes smart, complicated characters who are at a crossroads. Make Me is an eight-part serial beginning with Make Me Forget and the installments should be read in order. Ms. Kery weaves together the past and the present to provide a complete and enthralling tale. Fans of the Glimmer duet, J. Kenner, and Lisa Renee Jones will enjoy Make Me.

Book Info:

Publication: April 5th 2016 | InterMix | Make Me #1
Part One of the Make Me Serial
The New York Times bestselling author of Because You Are Mine, The Affair, and Glow is back with a tantalizing new serial novel about hidden pasts, dangerous obsessions, and uncontrollable passion…
Harper McFaddan has made her name as an investigative journalist by being both compassionate and fearless. After tragedy strikes her family, she moves to the shores of Lake Tahoe to find some peace. But when mysterious software mogul Jacob Latimer comes into her life, her thoughts turn from her own healing to an urgent need to get closer to him…
Jacob Latimer is the definition of a self-made man. The software entrepreneur built his corporation from nothing, but rumors abound about the shadiness of his rise to power and no one knows what secrets lurk in his past. Harper is the last person he should let into his life. As an investigative journalist, she's the one person who could expose his hidden origins. But Jacob knows things about Harper's past that make him irresistibly drawn to her. He wants nothing more than to make her his—and Jacob is a man who always gets what he wants…
Don't miss the next installment, Make Me Tremble…
Includes a bonus excerpt of Beth Kery's The Affair.