In Makeover Miracle by Charmaine Ross, Abbey finds herself in a makeover reality show along side her best friend Jennifer…much to her chagrin! Abbey would much rather hide in a corner than draw attention to herself, but "Jennifer had resorted to desperate measures…" by entering their names to begin with! Abbey can't believe that their names have been chosen as part of the group of people who will be segregated from the outside world as they undergo transformations both physically and mentally. Because it will not be enough to try to change physically if they can't also believe in themselves.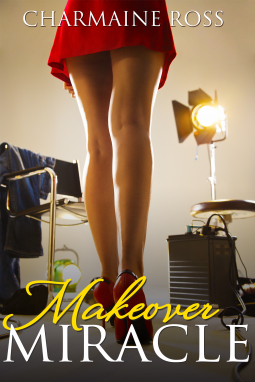 Abbey finds herself pushed to physical and mental extremes, as she progresses through Makeover Miracle in hopes of not being (or maybe she hopes to be!) eliminated. She has extreme insecurity issues with her body…whether others see them or not she certainly does. To add more spice to the mix and further confuse Abbey, the moment she sees Quinn Campbell, who is Makeover Miracle she feels that Wow! Quinn reacts to Abbey too, he feels the pull of her, he sees everything she does not see about herself. He will have his work cut out for himself trying to get Abbey to recognize that she is worthy, beautiful and fantastic. He tells her "I just wish you could see yourself as others do." But the way Abbey has been treated in the past weighs heavily on her and she has a hard time moving away from that. Throw in the hostess of Makover Miracle, Caroline, who wants Quinn for herself and does everything she can to sabatoge any relationship from developing between Abbey and Quinn.
Can Abbey make it to the end of Makeover Miracle without being eliminated? Can she trust herself more than she can trust Caroline? Can Quinn win her heart and help her see who she really is without the voices from the past intruding?
I was not sure how engrossed I could get in this book. The Makeover Miracle is a lot like the reality shows on TV lately and I have no desire to watch those. I hate to see people making fools of themselves and being demeaned. But this book was not like that at all!! I loved Quinn, he was up front, honest with everyone and did not put up with anything derogatory about the contestants. He had issues to deal with from his past too, and he managed to do that and turn it into a positive. Abbey I wasn't too keen on, she had issues she just would not let herself get past and was too caught up in what others in the past had thought or said about her. I felt she did mature though and start to 'heal' as the book progressed.
I would have like a bit more background on Abbey and her family. She had so many issues that it was hard not to wonder what if any support she got from her family and how they interacted together. Did her family have an influence on why she, at her age, had so little self worth?
It was a good, quick read with a good story along with the romance. The humor in it was very appropriate and Charmaine's descriptives were fantastic!
Rating: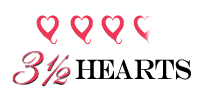 Book Info: Publisher: Escape Publishing – Harlequin Enterprises, Australia Pty Ltd (March 1, 2013)
Abbey Miller and her friend Jennifer have been picked from a live audience to take part in reality television show Makeover Miracle. This is Abbey's worst nightmare, and brings back deep memories of being teased and the brunt of cruel jokes. The last thing Abbey wants is her soul to be laid bare for the whole of Australia to see, but being the true friend she is, she agrees to help Jennifer, who desperately wants to change her life.
Quinn Campbell, the producer of Makeover Miracle can see Abbey crumbling live on stage, and after she vomits into a wastepaper basket, goes to her aid, not expecting see such a sad, haunted look in her eyes. There's something about Abbey that reaches out to him. The look in her eyes brings back long buried memories of his sister and his failure as a brother to help her.
This is a story about one woman's journey through harsh emotional abuses and the man who is able to make her believe in herself. Set against the beautiful Dandenong Ranges, Makeover Miracle is a story about forgiveness, understanding, personal growth and, of course, falling in love with that one special person.