In Making It Last by Ruthie Knox, Amber Mazzara is in Jamaica for her brother's wedding. She might not even have attended if her brother had not insisted on paying for the airfare and the hotel for her and her family. Her husband works hard, but with three kids and a big mortgage things are not easy.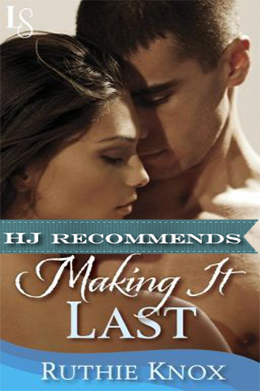 Tony has been working very hard to keep his family company afloat. Now that his brother has quit he has to work twice as hard to make things work in order to have the job he loves and keep his family the way he thinks that they deserve. He knows that means that he has to take work further from home than he wishes and sometimes leave really early and return after lateat night. But all he wants is for his wife to be happy.
Now after her brother's wedding, Amber is being left behind by her family so she can have a few days to herself, but how can she be happy when she is by herself when she wanted to have that time with her husband. So she decides to be someone else, she goes to the spa and salon to get a full treatment and a completely new haircut, shorter than she has ever had it cut.
When Tony is convinced by his mother-in-law to go to his wife or risk loosing her, he is surprised to find her in the bar with another man, and she has a completely different look. But he must find a way to rekindle the love and passion they share, and so a new character comes, one that meets a sexy woman and will hit on her and give her what she has been missing at home.
Adventure and truths will come to Tony and Amber as they embark on a make belief affair. They will find out what has been lost in their marriage in the last couple of years and will find a way to make it last many more
A great novella for the Camelot series, it is hot like all others in this series, but it also shows the hardships that a marriage goes through and how a couple can save or completely loose what they have together. Don't miss Making It Last by Ruthie Knox, it's fun, sweet and hot.
Book Info:

July 15th 2013 by Loveswept
A hotel bar. A sexy stranger. A night of passion. There's a part of Amber Mazzara that wants those things, wants to have a moment — just one — where life isn't a complicated tangle of house and husband and kids and careers. Then, after a long, exhausting "vacation" with her family, her husband surprises her with a gift: a few days on the beach . . . alone.
Only she won't be alone long, because a handsome man just bought her a drink. He's cool, he's confident, and he wants to take Amber to bed and keep her there for days. Lucky for them both, he's her husband. He's only got a few days in Jamaica to make her wildest desires come true, but if he can pull it off, there's reason to believe that this fantasy can last a lifetime.