Making the Grade (Wicked Warrens #4) by Marie Harte: Whew, what a hot, sexy read! Brian Goode's best friends, the Warren brothers, have all found the love of their lives. Even his sister Freddy has finally settled down with not one, but two hunky men. Brian is certainly ready for that special someone in his life and believes logistics executive Faith Sumner may be the one.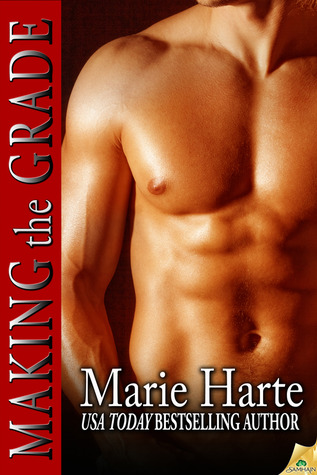 Faith is a gorgeous woman that comes with a lot of baggage. She grew up an only child in a trailer-park on the wrong side of town. Where she watched her mother sleep around to get money for the things that she wanted or that they needed. Faith has worked hard to be a strong and independent woman, but she still believes she is not good enough for any man. Although her last boyfriend was a total jerk, she was the one who sought him out because of his wealth. Through therapy, Faith is learning that she is good enough for someone to love and that the mistakes she made in the past have made her a better person now.
Brian and Faith met at a mutual friend's Halloween party about six months ago and were instantly attracted to each other. Because Brian is wealthy, Faith does not want to go out with him. But Brian preservers and Faith finally agrees to a dinner date. Before the night is over, they succumb to the passion and lust that exists between them.
Brian and Faith make a great couple. They explore each other's sexual desires at the sex club that Brian is a silent partner in. Where sex is concerned, they are both open and honest with each other. Brian likes to be in control and Faith wants to be watched. Their weekend together only reinforces the true feelings of love that are developing between them. Ms. Harte is known for crafting killer sex scenes and her talent is once again proven in this book.
I liked this book. However, the beginning is a little confusing because there are many characters being introduced. I found that reading the book blurbs from the earlier books in the series to be very helpful.
Moving on, Faith's close knit group of supportive girlfriends reminded me of the women from the Sex and the City TV series, which remains one of my favorite shows. Their camaraderie and friendship is fresh, realistic and comical. I found Brian's best friend Rex to be charming and sensitive while never losing his extraordinary womanizing abilities. Most of all, I liked Faith, because she was able to work through and accept her fears and flaws with style.
Book Info:

Publication: March 25th 2014 by Samhain Publishing, Ltd. | (Wicked Warrens #4)
Brian Goode is in a tough spot. With all his friends getting married, and his sister in a relationship with not one, but two men, the love bug is hovering around his heart, ready to bite. Trouble is, he's tired of playing a field full of gold-digging women.
Then there's Faith Sumner. She's gorgeous, genuine, and turns him on without even trying. Time to suck it up, ask her out, and pray their blazing attraction won't dissolve into another lukewarm disaster.
Faith is finished dating wealthy men. No longer willing to let anyone make her feel inferior for her humble roots, she's finally making good choices. Except this "Goode" choice turns out to be exactly the kind of man she's sworn off.
Though she's content to keep their one-night stand to a single amazing, unforgettable mistake, Brian's persistent wooing—and convincing groveling—begin to turn her head. Until Faith's ugly past comes calling, redoubling Brian's determination to show her she's worthy of loving, and being loved…