In Marriage on Madison Avenue (Central Park Pact #3) by Lauren Layne, Childhood best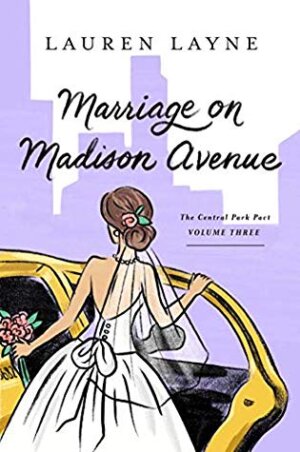 friends Audrey Tate and Clarke West have always had each other's backs, no matter what. Even if it means becoming fake fiances from time to time when his family is being obnoxious. Audrey usually plays along, knowing there's an end date in sight for their white lie. But when she and Clarke both have issues pop up in their lives that could benefit from a faux engagement, this time when they agree to "fake it", well…things feel different.
'The smoldering look Clarke gave her in return caused her breath to hitch just for a second and made her think the man had seriously missed his calling–that was some Oscar-level acting right there.'
As things continue to snowball out of control, neither Clarke nor Audrey seem to want to call it off. And they could swear that the just-for-show kisses they've shared to convince people they are truly a couple feel all too real. Could Audrey and Clarke really be falling for each other? The last thing they want to do is ruin their relationship. But when their feelings are all but smacking them in the face, how can Clarke and Audrey not at least see where things take them?
'Clarke had the fleeting thought that he couldn't remember the last time he'd been this content.
And then he glanced over at Audrey and realized he *could* remember.
It was every time he was with her.'
Irresistibly sweet and funny, Marriage on Madison Avenue was the heartfelt closure to Lauren Layne's Central Park Pact trilogy that fans have been hoping for.
'He bent his head down and kissed his best friend. And this time, there was no doubt in either of their minds as to why he was kissing her. Or why she was kissing him back.'
I will quickly mention that this novel can be read as a standalone as there's enough of a backstory included so the premise behind the "Central Park Pact" will make sense. That being said, I think readers will adore all three romances. Although there was something magical about Audrey and Clarke's (childhood) friends to lovers story–and not just because it's one of my favorite tropes. I think Lauren Layne outdid herself with the depth of emotions we watched Clarke and Audrey fumble through, the perfect slow burn to their attraction, and how each miscommunication or misunderstanding added road blocks to their relationship to keep it even more interesting.
I loved that what started out as a fake engagement so besties Audrey and Clarke could each fix an issue in their lives slowly turned into more than they expected. There were a lot of bumps along the way. Neither one wanted to admit to their growing feelings so as not to ruin their long-time friendship, which was understandable. But it was fun to see their friends and family all figure out *long* before Clarke and Audrey did that they were already in love. And that was where all the entertainment and swoony moments came into play. Something I think readers will enjoy. How can you not cheer on two wonderful people who are perfect for each other and already have such a wonderful foundation of friendship to build on, right?
Marriage on Madison Avenue was a sophisticated, tender, absolutely lovely romance. From the beginning of the story arc where three women formed a friendship out of a tense, awkward situation to the blissful HEAs they've all now found, Lauren Layne ended things on a decidedly positive, sigh-worthy note.
Book Info:

Publication: Published January 28th 2020 | Gallery Books | Central Park Pact #3
From New York Times bestselling author Lauren Layne, comes the final installment of the Central Park Pact series, a heartfelt and laugh-out-loud romantic comedy that's perfect for fans of Sally Thorne and Christina Lauren.
Can guys and girls ever be just friends? According to Audrey Tate and Clarke West, absolutely. After all, they've been best friends since childhood without a single romantic entanglement. Clarke is the charming playboy Audrey can always count on, and he knows that the ever-loyal Audrey will never not play along with his strategy for dodging his matchmaking mother—announcing he's already engaged…to Audrey.
But what starts out as a playful game between two best friends turns into something infinitely more complicated, as just-for-show kisses begin to stir up forbidden feelings. As the faux wedding date looms closer, Audrey and Clarke realize that they can never go back to the way things were, but deep down, do they really want to?