Married for his One-Night Heir by Jennifer Hayward is a sexy and exciting romance for a strong and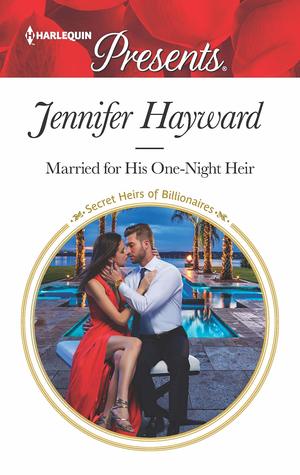 courageous woman with a unique background and the man she always wanted but believed she could never have.
Giovanna Castiglione shared a passionate night with Santo Di Fiore before marrying a man of her father's choosing. Being raised in a mafia family left her with little options, and when she discovered she was pregnant, only her new husband and her mother knew that Santo was really the father. Three years into her loveless marriage Gia's husband was gunned down and she fled with her son Leo, taking refuge in the Bahamas with a friend who helped her change her name, her appearance and build a career as an interior designer. She never expects to see Santo again – until he shows up on her island paradise to rock her world for a second time.
Santo can't believe his eyes when he spots Gia, the woman he'd spent an unforgettable night with and who'd betrayed him by marrying another. And to discover he has a son! He's determined to do right by the child and proposes marriage, giving Gia little choice but to say yes. He has a picture in his head of what marriage should be like, and when they move together back to New York, he soon finds that Gia is not going to be the kind of wife he'd always envisioned. He wants their marriage to be a real one, but is he willing to put in the work to make it so?
I really enjoyed this story! From the start Gia's circumstances make for an interesting character background and her motivations for disappearing with Leo and keeping his existence from Santo are understandable. She does feel guilty about Santo not knowing about Leo but his safety comes first and she still thinks she did the right thing by protecting him from her family's enemies. Still, once Santo knows about him, she has no plans to keep him from his son.
Marriage between two strong willed people like Gia and Santo is naturally going to have its bumps. Santo insists they move back to New York where his business is and isn't willing to compromise so Gia must brace for her family knowing her whereabouts again. Santo had a mother who was so career focussed she left little time for her children so he has this idea that his dream wife will be a stay at home mother. But Gia's career is what kept her sane when she fled and she has no intentions of putting it aside just to make Santo happy. Their clashes lead to compromise, and along with their sexy night time interludes, the keys to making their marriage really work. Santo is great with Leo and watching their relationship build is sweet. It's an engaging and exciting romance.
Book Info:
Publication: Nov 20, 2018 | Harlequin

Presents | One Night with Consequences, The Powerful Di Fiore Tycoons Series #3
Commanding Santo Di Fiore is stunned to see Giovanna Castiglione again. Her unexpected appearance at his luxurious party in the Bahamas leaves him craving answers. Why, after that one forbidden encounter, did she leave? But when Gia reveals their secret consequence, Santo won't let her go a second time. The Italian will claim his son—and Gia as his wife!