Today, HJ is pleased to share with you

Devney Perry's

new release: 

Tragic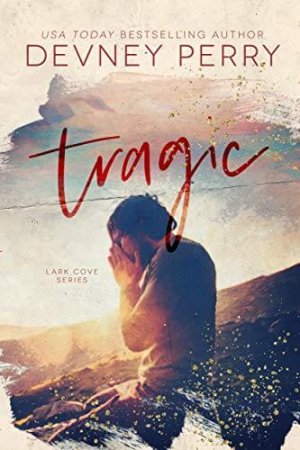 Kaine Reynolds wants nothing more than solitude. After an unthinkable tragedy destroys his family, he's cut off all ties to his former life so he can battle his grief the only way he knows how.

Alone.

So when Piper Campbell knocks on his door, rambling on about being his new neighbor, he slams the door in her face.

But Kaine's gruff demeanor doesn't scare her. She's set on living in Montana and starting over after a terrible divorce. And she wouldn't mind having a fling to chase away the pain of her husband's betrayal. Her handsome, albeit rude, neighbor is the perfect candidate.

Yet what neither of them suspect is that their no-strings affair will result in the surprise of Piper's lifetime—and Kaine's worst fear.
Enjoy an exclusive excerpt from Tragic 
Piper was smiling as the door swung open. Her dimples were also too damn cute. They disappeared along with her smile when she saw it was me at her door, not a crew member.

My gaze roamed her face, picking it apart and searching for things I didn't like. But I came up empty.

Son of a bitch. I liked it all, from her big eyes to her narrow nostrils to her flat chin. I even liked her teeth that were too white.

"Can I help you?" She held the door open but didn't step down.

"What the fuck is going on here?"

She blinked, then her mouth turned down. "Excuse me?"

"What. The fuck. Is going on here?" I repeated, then pointed behind me to the pile of shit on my property. "What is all of that?"

She looked over my head to where I was still pointing. "That would be garbage. I'm renovating my house."

"Why is it on my property?"

Her eyes narrowed, though they were still too fucking big. "It's not on your property. It's on mine."

"No. It's on mine," I said through gritted teeth.

"You're wrong." She cocked a hip. "After I bought this place, I had the county come and stake out the property line. I was thinking of putting in a fence to keep the neighbors out."

Neighbors? I was her only neighbor. But if she wanted a fence, I wouldn't balk. Hell, at the moment, a fence sounded fantastic. Maybe it would block out some of the noise. Maybe it would be easier to pretend this beautiful, irritating woman wasn't so close.

Piper crossed her arms and moved down the metal steps, forcing me backward. "See those stakes, right there and there? The ones with the neon-orange ribbons on them?" She pointed to a stake at the back corner of her house and then at another down the hill in the trees.

I grunted, wishing I'd noticed the stakes before trudging over here.

"That is my property line," she declared. "And-now use your imagination here-if you pretend to draw a line between stake number one and stake number two, you'll see the pile of trash is on my property. As is the neighbor I'd hoped to keep out with the fence."

I grunted again.

It was a pitiful response given how badly I'd underestimated Piper.

She was standing close to me. Really close. Closer than I'd been to a woman in years. She was wearing a thin, white tank top. The neckline was cut low enough that the tops of her breasts showed. Two faint freckles dotted her creamy skin, just above her cleavage.

"Did you need something else, Kaine?" Her voice dripped with sarcasm as she drawled my name.

I forced my eyes away from her breasts. "Just . . . just keep your shit off my property."

"Fine."

"And keep the noise down. It's bothering me."

"Tough," she snapped.

"Tough?"

"Listen, neighbor. I'm paying a small fortune for this construction crew to work overtime and remodel my house. I don't give a rip if the noise bothers you. I'm living in a camper, right next to the noise, and working from a table that doubles as a guest bed. If I can deal with it, so can you."

"Keep it down or I'll call the cops."

She huffed. "And tell them what? That there are people working next door? I can hear the dispatcher laughing at you already."

"God, you're a piece of work."

"And it's time for you to run along." She flung out a hand, waving me away. "Go be grumpy somewhere else."

"Keep it down. I'm warning you." I stepped closer, using my height to intimidate her.

But instead of backing away, she locked her jaw and stepped closer. Those incredible tits nearly brushed my chest. "Or what? Huh? What are you going to do?"

That damn, smart mouth.

We stood there, glaring at one another. The inch between us was filled with hate, our mutual annoyance and frustration a tangible wall between us. And then, as a slight breeze swished over us, the wall just . . . blew away.

My breaths were coming in heavy pants, not from anger, but lust. My brain screamed for me to step away, but my feet were rooted to the gravel.

Piper was breathing hard too. Each time her chest rose, her breasts skimmed my T-shirt. The heat from her cheeks spread down her chest, tinting her creamy skin a pale pink. Her dark eyes flashed, melting from cool indifference to scorching lust.

She wanted me. That flash in her eyes was unmistakable and it flipped my switch.

Off to on.

I crushed my lips down on hers, swallowing a gasp, then a moan as her hands slid up my chest. My fingers dove into her silky hair, letting the thick, luscious strands weave through my fingers.

What the hell was I doing? I'd come over here to put my neighbor in her place. Not to kiss her. The smart thing to do would be to stop this and let her put up that fence. But as she moaned again, stopping was no longer an option.
Excerpt. ©Devney Perry. Posted by arrangement with the publisher. All rights reserved.

Giveaway:

Signed copies of Lark Cove Books: Tattered and Timid
To enter Giveaway: Please complete the Rafflecopter form and post a comment to this Q:

What did you think of the excerpt spotlighted here? Leave a comment with your thoughts on the book…
Meet the Author: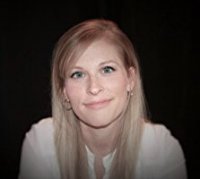 Devney is the USA Today bestselling author of the Jamison Valley series. She lives in Montana with her husband and two children. After working in the technology industry for nearly a decade, she abandoned conference calls and project schedules to enjoy a slower pace at home with her kids. She loves reading and, after consuming hundreds of books, decided to share her own stories. Devney loves hearing from readers! Connect with her on social media. Website  | Facebook | Instagram | Twitter | Newsletter
Buy:
Amazon: https://amzn.to/2wwROOa
iBooks: https://apple.co/2oSUiTd
B&N: http://bit.ly/2ulHo3u
Kobo: http://bit.ly/2HdGE4D