Marry Me at Willoughby Close by Kate Hewitt: Can two people from VERY different backgrounds ever find any common ground? Or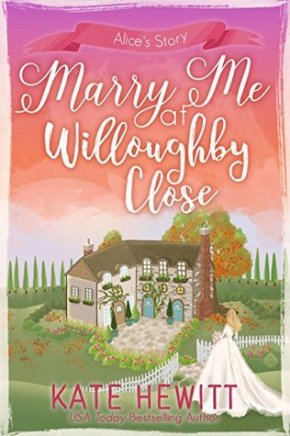 will they forever be cursed to the strata's that they both find themselves born into?
Alice James didn't come from much. She was a foster child, and her upbringing was difficult to say the least. However she was compassionate, strong and willing to do whatever it took to help with whatever was needed. She was also struggling so she jumped at the chance to become a companion to a lovely older lady.
Henry Trent didn't know what to do. His aunt, the only relation he truly cared for, was dying. All the money in the world could fix it nor could it even give them more time if he knew what to do with it. So he was determined to get the best for her, he just wasn't sure that included his aunt's choice of companions.
People who are dying tend to be able to get away with more than anyone else and therefore when Alice starts to see her companion match make there isn't much to say. Henry one the other hand has plenty to say and none of it is the right thing. Can these two ever see beyond their circumstances?
Ms. Hewitt has given her readers an interesting twist on Pride and Prejudice here, she even leads the reader to this comparison several times within the novel. This is set in England and there are some colloquialisms but not enough to frustrate a non Britain. The writing is a bit wordy, but when read as a women's lit book more than a romance it makes a lot more sense. This book does touch some heavy issues, the biggest being death but all foster care, class systems and wealth to name some. This is a good read as a mellow one.

Book Info:

Publication: Published July 18th 2017 | Tule Publishing | Willoughby Close #5
Welcome to Willoughby Close… a charming cluster of cozy cottages, each with a story to tell and a happy ending to deliver…
Alice James has been a drifter her whole life, working her way through several foster homes before ending up in Wychwood-on-Lea, feeling anchorless and invisible. When a chance encounter leads to Alice accepting a position as a caretaker and companion to Lady Stokeley, she starts to feel as if she might finally be able to put down some roots and live the way other people do.
Then, Lady Stokeley's nephew, city banker Henry Trent, storms into Willoughby Manor, seeming to find fault with everything, including Alice. As the next in line to the manor and title, he threatens to upturn everything she's started to build. But Henry is hiding his own secret fears and weaknesses, ones he's desperate for no one to discover. A surprising and inconvenient attraction that simmers between them leaves Alice feeling more confused than ever, and Henry torn between duty and desire, fear and love.
When circumstances become even more difficult, both Alice and Henry must decide who they really are, and what they are willing to fight for. Could Alice possibly the next Lady of Willoughby Manor?