Marrying the Wedding Crasher by Melinda Curtis: I enjoyed the opportunity to "return" to the quirky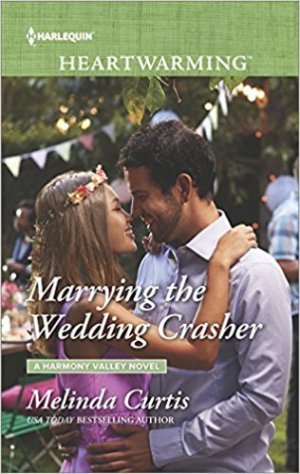 town of Harmony Valley, with its' many interesting yet loving characters! Reading gives readers the chance to "travel" to so many places!
In "Marrying the Wedding Crasher", Vince is quite anxious however about returning to the town where he grew up, as his childhood was extremely difficult and painful. To help ease his visit for his brother's wedding, he invites a recent girlfriend, Harley, to be his guest at the wedding and to pretend they are still a couple.
Vince introduces Harley to his brothers, niece, and sister in law to be, all of whom take a quick liking to Harley- and the feeling is mutual. Meanwhile, Vince copes with feelings long held inside about his parents, feelings he hid from his brothers while their father was still alive after their mother left. Harley tries to help him process his feelings, all while hiding from him her growing real feelings for him.
This is a story that will pull at reader's heartstrings, as Vince examines the effects his parents behavior and father's health played in his life. I recommend this story to fellow readers!
Book Info:

Publication: March 1, 2018 | Harlequin Heartwarming | Harmony Valley #11
This bachelor's pretend girlfriend just made a shocking discovery—
She's pregnant!
Although they dated for only a month, Harley O'Hannigan just agreed to be Vince Messina's plus-one at a Harmony Valley wedding. Big mistake, given her deepening feelings for the tall, dark, unavailable bachelor. And what about Vince's long-buried family history? Then there's the growing secret that could transform this pretend relationship into the real thing…