xo, Zach by Kendall Ryan is sweet, sexy, and fun. For those who want a flirty and playful romance, this one is for you!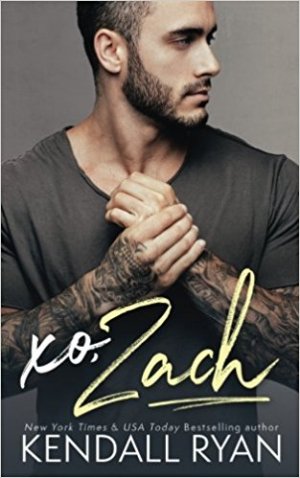 When Poppy's friend drags her to a party, she's surprised to see her ex. She's still not over how or why he broke up with her and panics when she sees him. In fact, she picks out a good-looking man from the crowd and asks him to pretend he's her date.
Zach has no issues with pretending to be on a date with Poppy. Not only is she pretty, but from their conversations he can tell she's smart and that they have many things in common. When Zach kisses Poppy, he's more than willing to take it further but Poppy isn't ready to date and informs him that if they are meant to be, they will see each other again.
Poppy is in the surprise of her life when she walks into class to see her new advisor, only to find out it's Zach. Turns out Poppy will be working under Zach for graduate program. Maybe they really are meant to be. It's not exactly that easy, though. Not only is their relationship technically frowned upon, Poppy has been holding out on Zach and is keeping a secret. Will Zach be able to break through Poppy's barriers and convince her that he's the real deal?
I loved Poppy. She's intelligent, dedicated, and such a hard worker. She has many responsibilities and doesn't shirk on any of them. Zach is such a sweetheart. Even though, he's got a dirty mouth, he's also very patient and understanding. I loved them together!
xo, Zach is low on the drama and extremely enjoyable. Well-written with lovable characters, it's not a story to pass up!
Book Info:

Publication: January 23rd 2018 | Kendall Ryan Books |
The first time we met was at a party.
Your ex arrived to show off the person he'd left you for last month, and you asked me to pretend to be your date.
I was more than happy to help. You were attractive, smart and witty–and that kiss we shared? It left me wanting you for days.
The second time we met was in my office on campus where we were both surprised to discover you were the new master's degree student in poetry that I would be working with. You promised to be professional. I did no such thing.
The late nights and intense study sessions spent alongside you majorly throw me off my game. I want you, and I fight with myself daily over this fact.
I know I'm crass, that my sexual innuendos and dirty mouth annoy you, but I live for those two bright spots of color in your cheeks. If that's the only reaction I can get out of you, I'll gladly take it.
You hate Mondays so every Monday I slip an anonymous poem into your bag and your smile gets me through the week.
I think I'm falling for you, and I know it's wrong. I know that I'm only supposed to be the adviser to your program and nothing more, but here's the thing. I think you're falling for me too.
xo, Zach