Matched by Masala (Once Upon a Wedding #2) by Mona Shroff is a story full of flavor. Amar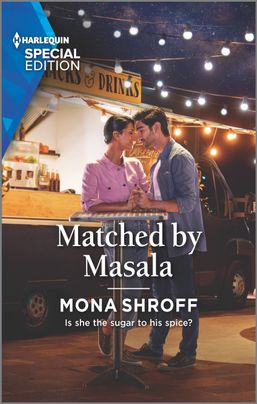 Virani has been in love with Divya Shah since they were teens. But because Divya is his sister's best friend, she's off limits for him.
"Years of distracting himself—or trying to—of avoiding her, dating other women. All for nothing, because he'd kissed the one woman he could never allow himself to have. Because she deserved better than him."

Divya always consider Amar as a brother; she never saw him as a man until an alcohol-induced kiss a decade later change things.

"…she'd never really considered Amar a guy until their ill-fated drunken kiss.
Since then, she kept herself busy and willed the feelings away whenever they would come up."
Now, as they start to work together in the catering industry (Amar is a very talented chef and Divya is a pastry expert), they get closer and sparks fly every time they're together. That said, their attraction isn't enough to be together. They have to overcome years of obstacles. Since the tragedy that took his parent's lives, Amar carries a burden full of grief and guilt that makes him think he's not what Divya needs or deserves. After winning her battle with Cancer, Divya is always worried about getting sick again. Even though her worries, she's strong, fierce, doesn't avoid challenges and the most vulnerable heroine you would find.
Their life experiences made them opposites: Amar is stuck in the past, while Divya lives everyday as if it was her last day alive. Amar is an organized man, while Divya is impulsive and a bit reckless. Amar's business approach is fully conventional, Divya acts are based in her instincts. As they work together, those opposite views clashes constantly but at the same time, they complement each other, giving the other what they need. This romance never bores and gives you very funny moments as they seek for their dreams and their happily ever after.
An important factor in this book is family and the Indian culture. Amar's sister Anita (book 1 in the Once Upon a Wedding series) is a well intentioned smart a**, her husband Nikhil is a very perceptive and wise guy, overcoming the obstacles Amar puts in his way effortlessly (at the beginning of this book Amar and Divya didn't trust Nikhil because he broke Anita's heart once), and Divya's parents—always worried about her daughter—are a soothing presence in this story.
What I love most from this book is the way Ms. Shroff, like a elaborated recipe, mixes romance with serious issues while creating a light atmosphere filled with clever dialogues. Also, she developed the main characters' personalities so that could 'season' their scenes. Best example is how the author uses Amar's fixation with Marvel/DC Universes to build strong moments in the plot.
"He wiped away her tears and looked at her like she held his life in her hands. He squeezed her hand and they walked toward the entrance.

"Wonder Woman T-shirt?" she asked.

"We need the big guns today, Div." Amar grinned."
Matched by Masala is a mouthwatering book with an easy, funny and fast reading that celebrates Indian culture and cuisine—yes, I had to ask Saint Google for those delicious recipes Ms. Shroff brought to the table (yummy!!)—family values and how facing difficult moments in your live is better when love is around.
Book Info:

Publication: June 28, 2022 | Harlequin Special Edition | Once Upon a Wedding #2
He cooks for their customers…but he'd rather cater to her heart!
One impetuous, slightly drunken kiss has turned up the heat on chef Amar Virani's feelings for Divya Shah. He's been in love with the sexy pastry chef—his sister's best friend!—since they were teenagers, but a painful tragedy in his past keeps Amar from revealing his true emotions. As they work side by side in Divya's tiny food truck, she realizes there's more than just business simmering between them. For the first time, she's tempted to step outside her comfort zone and take a chance on Amar—even if it means risking more than her heart.
From Harlequin Special Edition: Believe in love. Overcome obstacles. Find happiness.
Once Upon a Wedding
Book 1: The Five-Day Reunion
Book 2: Matched by Masala