In In Her Boots by K.J. Dell'Antonia, Rhett Gallagher's yearly trips home to the family farm in New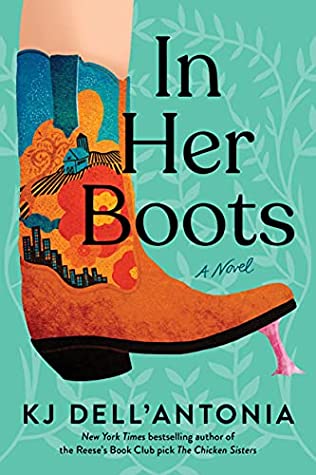 Hampshire were always a reminder that some day she would return to it for good and take over. She just didn't expect to lose her beloved Grandma Bee now, at the same time as Rhett's romantic life is imploding and her career as a new author–under the pen name Maggie Strong–is taking off like a rocket. But there's comfort to be found at Pioneer Hill. She hopes. Because after traveling the world for two decades, Rhett feels ready to settle down for the foreseeable future. And while she still might use her alter ego as Modern Pioneer Girl on Instagram and to maybe write more books, it will be nice to feel like her old self again.
"I just don't want to see you get hurt if you can't save Pioneer Hill. I'm afraid you're hitching your wagon to the wrong star."
He was so smug. My nostalgia disappeared in an instant.
"I'm my own star," I said, and turned.
Plans take a nosedive when Rhett is invited onto the Today Show to speak about her book, The Modern Pioneer Girl's Guide. Somehow her mother, Margaret, is the opposing guest. And since Margaret has no clue that Rhett is Maggie Strong, and they haven't seen each other in twenty years, she freaks out and gets her best friend, Jasmine, to pose as Maggie. As Rhett treks home to the farm with Jasmine arriving soon after, the fibs continue to build. And the issues pile up as well, starting with Pioneer Hill not being left solely to her. She'll have to prove to her mother, the trustee, that she can make a success of it. Including wrangling misbehaving farm animals, repairing all the buildings, actually growing crops and starting up the farm stand again. In addition to sorting out every single relationship in her life, it seems.
'Even if I lost the farm and everything else, as long as I was still that person who could get up and start again, I had everything I needed.'
From the intricacies of friendship to differing opinions with family members, In Her Boots took a plucky heroine nearing forty and turned her nomadic life upside down as she reconnected with her hometown and the beloved farm she (temporarily) left behind.
'I should have come back more. Should have spent more time with Grandma Bee. Now she was gone, and it was too late for that–but it wasn't too late for everything else. I was back, and I was here to stay.'
This was my first K.J. Dell'Antonia book (I now need to read her fiction debut, The Chicken Sisters!) and I can definitely see what all the fuss is about. Rhett's story was a first person narrative which made it very intimate as well as making her myriad feelings that much more real and raw. And the thoughtful storytelling itself was wonderful. It was a mostly lighthearted romp overall, with some seriously funny scenes (mostly with the barnyard animals, lol) mixed in with Rhett's struggles and aspirations.
I wasn't sure about Rhett having an "alter ego" at first. But as her past was laid out, I could see why she created the Modern Pioneer Girl and how it helped shore her up when self doubt crept in. But I also enjoyed the metamorphosis Rhett and her alter ego went through over the course of the story–how she became the truest version of herself without compromising her values or goals. Yes, she made some iffy choices which ended up creating more problems than they solved. And Rhett had a habit of running when things got tough. But she always knew, deep inside, what needed to be done–and by the end, she faced each challenge head on, showing the tough stuff she was made of.
Rhett's relationships with her bestie Jasmine, her estranged mother Margaret, and her former boyfriend Mike were really where she needed to focus and figure out what she truly wanted. Dell'Antonia cleverly found ways to point out to Rhett how those around her saw her–and how her actions were driven by those (perceived) viewpoints and her reactions to them. It was heartbreaking a few times to see her falter. To watch her doubt her abilities or question the love or attention people gave her. But Rhett did learn who she could trust. And to always go with her instincts.
QOTD: Rhett made a couple of decisions that came back to bite her before she cleared things up. Have you ever made a choice that "dug the hole deeper" in a situation?
Book Info:

Publication: Published July 5th 2022 | G.P. Putnam's Sons |
From the New York Times bestselling author of The Chicken Sisters comes a delightfully entertaining story about a ruse that goes awry and a chaotic homecoming that proves that confronting your past can sometimes set you free.
Filling these boots is harder than it looks.
Rhett Gallagher's adventurous life is imploding. Just as she turns the big 4-0, her long-term relationship collapses, and news of a tragedy forces her to return to the family farm. The only silver lining is that Rhett's inspirational book, The Modern Pioneer Girl—written under a pseudonym—has become a wild success, so much so that in a moment of panic, self-doubting Rhett persuades her best friend Jasmine to step into the limelight as the famed author.
But their prank turns into something more when the controlling mother Rhett hasn't seen in two decades announces her intent to sell the farm Rhett loves and expected to make her own. To Rhett's dismay, her mother is far more impressed by the fake author than she's ever been by Rhett. To save her inheritance—and her identity—Rhett must concoct a scheme that will save the farm, and prove to her mother, and to herself, that she can stand on her own two feet.