Maybe For You by Nicole McLaughlin: Emotional and sweet!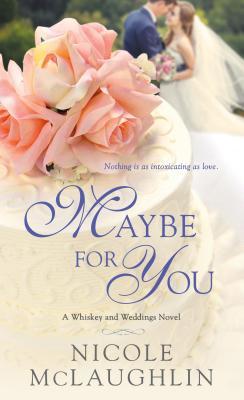 Alex lost her fiancé, Nathan, in a helicopter crash right before their wedding. In need of a change of scenery, Alex accepts an overseas deployment in Italy. She'll have a year to pull herself together without everyday reminders and outside of the watchful eye of her overprotective brother, Dean.
Surprisingly, though, she maintains a weekly correspondence with Dean's good friend, Jake. Jake is a great listener and doesn't judge, pry, or lecture Alex on what she should or should not be feeling, saying, thinking, or doing.
But, when it's time for Alex to return home, she and Jake picks up their close friendship with just a twinge of awkwardness. It seems that Jake has begun to grapple with some unexpected feelings and is disappointed to learn that Alex has already accepted a job in Washington, meaning her time at home will be brief.
Meanwhile, Jake's playboy reputation has gotten him in hot water with one of his clients who lodged a complaint. Jake will have to tone down his partying ways and appear more stable to project the right image for the company.
Once Alex gets home and settles in a bit, she feels her depression increasing, and being with her brother and his fiancé is starting to feel cloying. As Jake embarks on a work -related road trip, Alex offers to come along to 'keep Jake in check'. Sounds like a win-win for the company and Jake, plus Alex just might be able to kick up her heels and have some fun.
However, the trip proves to be much more than a cathartic adventure for Alex, and Jake discovers his feelings for Alex are much more complicated than he would like to admit. But, what will happen when the road trip ends? Will Jake and Alex go back to being 'just friends'? Will Alex take the job in Washington?
This story is centered around coping with loss and grief and how love sometimes finds us in the most unexpected ways.
This theme isn't exactly unique, nor does this book cover any new ground, but it has its moments. This is especially true with Alex, who is working so hard to make sense of her life. Her grief is palpable at times, but the story never veers into maudlin territory, nor is it excessively heavy. In fact, most of the book carries a light tone, with only a few strategically placed moments of poignancy.
Jake's character growth is accentuated by the acute hollowness he's feeling as his two best friends bask in love's glow. His heart and mind have lined up at just the right time and place preparing him for the relationship plunge. But, Jake plays the 'straight man' role a bit in this story. Compared to Alex, his emotional maturation is not as compelling, and his character, as sweet and supportive as he is, was a bit bland.
The book benefited tremendously from the heartwarming addition of Nathan's family who added clarity for Alex as well as adding some additional depth to the story.
Overall, this story has a nice balance of drama, a mid range level of sensuality, and plenty of emotional romance. I found it to be an enjoyable and pleasant read that most contemporary romance readers will appreciate.
Book Info:
Publication: 08/28/18 | St. Martin's Press |

Whiskey and Weddings #3
She's never had a no-strings fling. He's never had anything else. But maybe this time will be an exception?
After a year of mourning her fiancé, Alexis Parker has worked hard to rediscover what she wants out of life. Fresh out of the military and back stateside, her brother offers her a marketing job at the Stag Distillery. Ready for a new challenge, Alexis agrees to accompany her new co-worker Jake Cooperon a Stag cross-country promotional tour. He may have an infamous playboy reputation, but Alexis is surprised to find out that there is more to him than meets the eye. And she likes what she sees. . .
Jake promised Alexis's brother that he'd be an absolute gentleman. Of course, that was before he and Alexis hit the road, and they both agree that what Alexis's big brother doesn't know won't hurt him. The plan: to keep their fling confined to the RV, and everything will go back to normal once they head home. Things progress in ways neither of them could have imagined, and Jake realizes that he and Alexis make a perfect mix. Can he convince her that he's ready to shake things up and give true love a shot?