Maybe One Day by Debbie Johnson: On the day of her mother's funeral, the life Jess has been living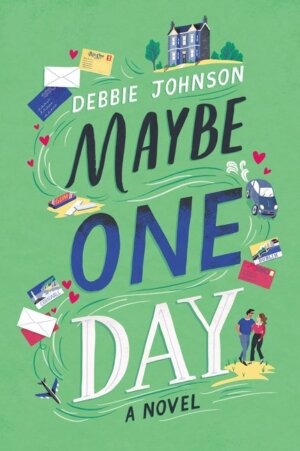 literally begins to unravel. And interestingly enough, it isn't her mother's passing that shifts her in orbit, but rather the discovery of a betrayal so significant that she has no option but to relive some excruciating moments whilst on the hunt for the man who stole her heart on the first day of College.
Maybe One Day is a romantic adventure like no other, punctuated by never-received letters from her past, and an Alice in Wonderland style 'choose me' type correspondence that helps Jess to stay the course on her mission, to walk in Joe's shoes, and find him wherever he has ended up in the world.
Throughout the journey, shared by Belinda their old college friend and Michael, her much younger cousin, Jess slowly maps her way across continents filling the gaps that had been created from the past 17 years of loss. And along the way she discovers a life stolen and one she never got to live with Joe, destroyed by her well intentioned parents who fundamentally believed she was better off without him given her fractured mind and fragile mental health. In many ways, Jess is forced to look back in order to move forward, and at times the pain and grief she faces threaten the sanity she had worked so hard to piece together.
In a similar vain to P.S I Love You, Joe is shaped as the perfect lover; kind, considerate, intelligent, loyal and who owned Jess's heart from the moment they met. His backstory is inspiring and underlined the bulk of his internal motivations; junkie parents, an abhorrent foster home and debilitating scars that painted a true survivor picture. And whilst it was arguably overdone, with regard to the sheer volume of adults in his life who had failed and abused him, he was beautifully constructed via the letters and the flashbacks insomuch that everything slightly too far was forgivable.
On the flip, Jess naturally rebelled against her middle class pleasantville upbringing of rules and order, and chased down a life wherein she was free and had Joe's support to find the courage to be her true self. And together they worked, perfectly and completely. The bittersweet tones that ran throughout the entire journey was balanced bravely by Johnson, and this was underpinned by delicate management of grief which emphasised that surviving tremendous loss is something that you carry with you daily and eternally.
Ultimately, This gorgeous yet at times heartbreaking novel, will challenge any stoic reader to remain dry eyed, whilst simultaneously reminding us to take nothing for granted, and to hold on tightly to everything we love. Driven by a sense of urgency, Maybe One Day will be devoured in hours and once complete you'll continue to dream the future for Joe and Jess and hope for a much fairer one that they can truly share together.

Book Info:

Publication: 2nd March 2021 | William Morrow Paperbacks |
The truth changes everything.
For years Jess believed that Joe—the father of her child and the only man she ever loved—had abandoned her during her greatest time of need. That belief nearly destroyed her. Seventeen years later, when cleaning out her mother's house, Jess unpacks a box of cards and letters hidden in the attic and makes a discovery that changes everything about life as she knows it.
Shaken but empowered, Jess—and her two stalwart best friends—set out on a remarkable journey to follow a set of faded postmarks around the world. Is Joe still alive? Does he know that Jess never forgot him? Maybe their love story isn't over.
Maybe one day they'll find each other again…