Return to Me by Michele Arris: Evie may be a top level pastry chef with her own successful business, but the rest of her life is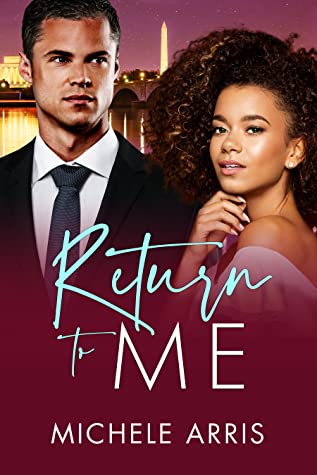 far from perfect. She is trying to divorce her abusive husband. The day she goes to meet her lawyer at his firm, he is being wheeled out to an ambulance after having a heart attack. She is told her case is going to be handled by one of the top lawyers in the firm. Imagine her shock when she is face to face with Vincent Scott, a man she knew quite well in the past. The last time Evie saw Vincent was twelve years ago when he was a mechanic and she had bigger plans for the future.
Vincent still loves working on cars, but is a senior partner in the law firm. He is shocked to see Evie, too, and wonders if he can work with her. Once he learns more about Evie's situation, he promises to do all he can to make sure she is not ripped off during divorce negotiations. He wants to keep things professional, but Evie is still as gorgeous and sexy as ever.
I loved all the characters in book, except Evie's soon to be ex-husband. Evie has really worked hard for her success, but still has time for her close girlfriends. In today's world everyone needs people who have your back, no matter what and actually listen to you. Vincent has worked extra hard to get ahead and is not discouraged when difficult things happen.
I thought it was extra sweet how devoted Vincent was to Sasha and making her graduation truly special. He, too, had good friends, which seems to be harder for men after they get past college.
The author touches well on many emotional issues and portrays the characters as truly authentic. Alongside this is a very sexy love story with the main characters. The novel is labeled as part of a series, but it is a standalone tale.
Return to Me makes me want to return to this amazing author again in the future.
What is your favorite cake?
Book Info:

Publication: February 25, 2021 | Tule Publishing | Tycoon's Temptation #3
All she wants is to move on as quickly as possible—if only the universe agreed.
Custom pastry chef Evie Powell's life is in disarray. Not only is she trying to divorce her husband, but her lawyer has a heart attack and her case is turned over to the firm's senior partner, a man Evie knew intimately in her past. A man she hasn't seen in over twelve years and who she wants nothing to do with. So why does he still leave her breathless?
Attorney Vincent Scott is a man of humble beginnings who has now made a name for himself running one of D.C.'s most prestigious law firms. When he's handed a divorce case for the woman who left him back when he was a lowly car mechanic, he wants to refuse. Yet even now, Vincent is still drawn to Evie and will do anything to protect her.
But when a life-altering secret is discovered, can Vincent tell Evie something that would destroy everything?