In Meant to Be Immortal (Argeneau #32) by Lynsay Sands, Hematologist Macon "Mac" Argeneau thought he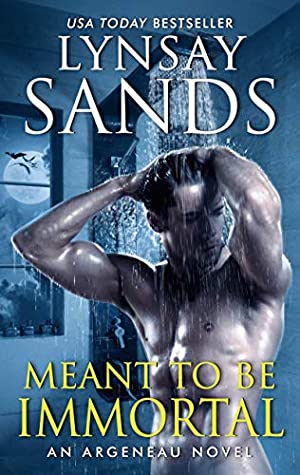 had found the perfect out-of-the-way location to set up his lab and have his own private space. But the first night in the farmhouse disaster strikes. The house goes up in flames with him in the basement and no way out. Unfortunately fire + an immortal usually = death. While he makes it out alive, Mac knows he has to find out who set the fire. Because it sure wasn't old wiring. Much to his shock and delight, though, the very same night he meets his life mate, CJ Cummings. Standoffish and prickly, the SIU detective can't seem to wait to get Mac on his merry way. It will take some smooth talking and creative thinking to turn CJ's opinion of him (and men in general) into something that will allow her to explore the electric current of attraction between them.
"I've known you were perfect for me from the start, but now I'm afraid I might be falling in love with you, CJ Cummings."
CJ thought she was only in town for a day or two to interview the local police and finish her investigation. She had no idea that she would be rooked into filling in on a fire scene investigation. Or that she would end up becoming a bodyguard to the handsome tenant. Mac is truly a wonder in many different ways. Stunning enough to be a Greek statue, he somehow came out of the fire with no lasting injuries. And then there's his cheery disposition. CJ has no idea how she'll spend time guarding him without wanting to run for the hills. He's a menace to her cynical views. Not to mention her libido. But after the lasting effects her ex-husband has had on her life, CJ isn't sure she'll be able to put her trust in a guy ever again.
'The last damned thing she needed was for him to be sweet and thoughtful on top of gorgeous and sexy. Was he trying to make her fall for him?'
With all the quirkiness, humor, attraction, and beloved Argeneau characters I crave from this series, Meant to Be Immortal was an entertaining new read by Lynsay Sands.
'She'd just walked up to the ambulance in his darkest hour, changing what had seemed like one of the worst days of his life into the best damned day ever.'
If you can believe it, we are thirty-two books into the Argeneau series now! And I'm still finding the plots to be solid and the offbeat cast as charming and fun to catch up with as ever. Mac and CJ's book might not have been the most thrilling or fastest moving one of the lot for some readers, but I definitely enjoyed their polar opposite personalities.
Mac was basically all happy-go-lucky, with not a whole lot getting him down. Then again, he'd been alive for millennia so he'd probably seen and been through just about everything you can imagine. Plus he had a very supportive family at his back. Like a lot of the heroes in this series, Mac was kind of clueless when it came to wooing modern women, which had me chuckling a few times. His heart was certainly in the right place. And thankfully, he wasn't an overbearing alpha. Mac was certainly protective of CJ. But he didn't push her around verbally or make decisions for her.
CJ was actually the one I had a hard time connecting with. Not because I didn't like her. I did. She was inquisitive, strong, and sadly, distrusting. Especially of men, thanks to her ex. It was once we found out the details of CJ's previous marriage as well as the fallout from her relationship with her ex that I put the pieces of her personality together. Then it all made sense. It was pretty fun to see her slowly falling for Mac as her trust in him grew. I will admit it was a very, very slow burn between them. But the ending made up for it in my humble opinion.
Lynsay Sands always captures my attention–and my heart–with her books. Meant to Be Immortal, with its winding love story peppered with bits of suspense and lots of Argeneau cameos, was a nice addition to the series.
Book Info:

Publication: April 27th 2021 | Avon | Argeneau #32
In the newest Argeneau novel from author Lynsay Sands, an immortal barely escapes a raging fire only to kindle a sizzling passion with his potential life mate.
Mac Argeneau knows all too well: immortals can be killed. Not with holy water or silver crosses, but by decapitation or being set on fire. So when Mac's house bursts into flames—with him inside—he's sure it was no accident. But who would want to kill a scientist specializing in hematology? There is a silver lining: a blonde investigator appears on the scene and sparks feelings in him that have been dormant for centuries.
CJ Cummings is in town on a special investigation, but she's been waylaid by the local police to deal with this arson case. The biggest mystery is how this sexy scientist with silvery blue eyes has emerged from a blazing inferno without a burn mark on him. He's clearly hiding something. Sure, she'd love to see him without his lab coat, but she's got a job to do—despite his insistence that he needs a bodyguard and…he wants her.
But when a second attempt on their lives puts CJ in harm's way, it's Mac who will do anything to safeguard the woman who's destined to be his life mate.