Meet me on the Midway by Amie Denman: What a treat this book was!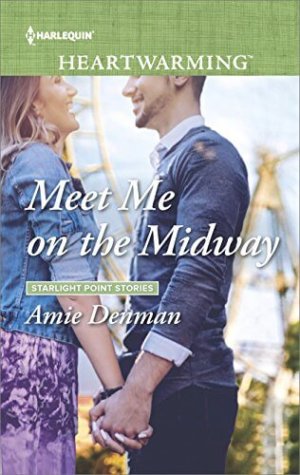 After really enjoying the first book in Starlight Point, reading June's story, it was now a pleasure to read about Evie, and her ambition and goals for the family owned amusement park, its' hotel and expanding facilities.
Evie is an entrepreneurial young woman, aiming to defy her family members views of her as simply an accountant for the park. She wants to honor her fathers memory by expanding the amusement park and its resort into a wider venture including a marina, additional restaurant and renovating a historic hotel. She encounters resistance from a new fire inspector who is determined to enforce fire safety codes to their strictest interpretation.
It was also a pleasure to see the continued closeness and love between her, her brother Jack and sister June, and to see June's family and Jack's family grow with their newborn baby girls.
Evie and Scott develop a very conflicted relationship as she aims to expand the park while he shows extreme concern yet understandable concern for safety regulations considering his background and childhood. I highly recommend this beautiful story!
Book Info:

Publication: December 1, 2016 | Harlequin Heartwarming | Starlight Point Stories
Want to Read
It's time to take a chance
Evie Hamilton has big plans for Starlight Point, her family's amusement park. Determined to prove she's more than a by-the-numbers accountant, Evie is all set to open a brand-new marina and renovate the century-old Lake Breeze Hotel. She's planned for every possible roadblock…except the handsome, infuriating new fire inspector.
Firefighter Scott Bennett doesn't want to be the bad guy. But when he looks at Evie's plans, all he can see are the potential disasters. He wants to help Evie build for the future, but letting go of the past feels dangerous. Almost as dangerous as trusting Evie with his heart.