Meeting His Match (Match Me #1) by Katee Robert is the first book by this author that I have had read. I can tell you now, that it will not be my last. I truly enjoyed every minute of this book and the characters just totally endeared themselves to my heart.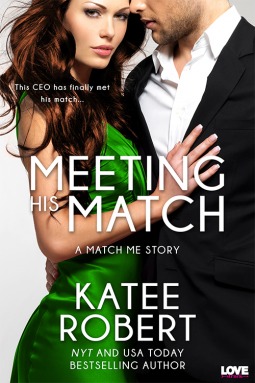 Caine McNeill lives to work. And the man is miserable. With an overbearing father, a brother miles away with his own family and a huge house he's rattling around, it's no surprise he's lonely. Addison St. Claire is his sister-in-law Regan's best friend who runs a dating agency.
Unbeknownst to Caine, Regan sends Addison to the deep south to sign her bro' up and find him the love of his life. Addison has heartbreak and loss in her past, she believes strongly in soul-mates, and that there is one true love for everyone. She thrives on giving others their 'Happily Ever Afters' and has made it her business with the success of Connected at the Lips, lately though the sparkle seems to have become a little tarnished and the satisfaction she once felt seems to be missing. Taking on the job of matching the CEO of McNeil Enterprises with his perfect match, seems like a great idea to get her out of the rut she finds herself in, she just never imagined that she would be the one who fits with Caine perfectly.
He may be the millionaire CEO, but Caine is a complete treasure. This southern gentleman is the perfect blend of sexy, charming, sweet, bossy and brooding He may be filthy rich, but he's grounded, realistic, makes no secret of what he craves in life. Addison was equally as likeable and she has a good heart. She is always trying to help others, she is a true pleaser person. They have a wonderful chemistry and his determination to make her see they are perfect for one another makes for a sexy, romantic journey that I devoured.
I would highly recommend this book to anyone looking for a quick summertime read. You will fall in love with these characters. I give this story 5 sexy stars.
Book Info:

Published July 21st 2014 by Entangled Publishing, LLC – Lovestruck | (Match Me #1)
A satisfying category romance from Entangled's brand new Lovestruck imprint…
When New York matchmaker Addison St. Claire is tasked with matching her best friend's new brother-in-law, she almost refuses. But the sexy southern CEO turns out to be a challenge she can't resist, because if anyone needs to meet his soul mate, it's this man. And if matching him with someone else removes the temptation of being near him? Even better.
The last thing Caine McNeill needs is a matchmaker—especially a gorgeous redhead who spouts nonsense about soul mates, critiques what he drives and how he dresses, buys him a dog, and pesters him about a million little things he couldn't care less about. It's a crying shame he has to keep his hands off because chemistry like what's flaring between them ought to be explored. Thoroughly.
And so the battle begins. Addison is determined to stick to her plan of setting him up on dates with other women, and Caine is equally determined to ignore these women and seduce her.