If I Stay by Tamara Morgan: In a world where the head of the household could buy small countries and control their leaders with a turn of his head lived a pretty young nanny. Amy had grown up in the Montgomery household, been raised among Mr. Montgomery's children and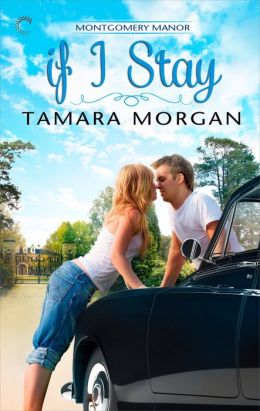 even fallen a bit in love with his son.
Now she was the nanny to his second wife's twins and the Montgomery household had changed. Ryan was the new chauffer and one of the few men to really turn Amy's head. However not everything is as it seems and as revelations begin to come to light will there be a fairy tale ending or will the future divide?
Ms. Morgan is a new to me author who has a great ability to create a world and it's players teasing with the secondary ones and fulfilling with the primary.
This is the first book in what looks like a great series about the Manor household. It's stylistically an easy read that flows almost seamlessly while telling a romance with huge family implications and some suspense.
If you are interested in something about mid depth level with great character and set build up this is a great HEA for you.
Book Info:

Published May 12th 2014 by Carina Press | Series: Montgomery Manor
Ryan Lucas would rather be anywhere but Ransom Creek, Connecticut. After losing his high-adrenaline career as a Hollywood stunt driver, he's had to tuck his tail between his legs and take up employment as a chauffeur for the Montgomerys, a wealthy hotelier family.
Amy Sanders has returned home to Ransom Creek to take over her mother's former position as nanny to the Montgomerys—bringing her close to dashing Jake Montgomery once again. She grew up with a major crush on Jake, and it's not easy to leave those feelings behind, even though her friendship with the hard-edged family chauffeur, Ryan, has a sizzling undercurrent of undeniable attraction.
Amy's determined to prove to Ryan that life at Montgomery Manor isn't all bad, but each time they draw closer Jake swoops in. Amy is torn between two men—and two worlds. And Ryan is rapidly coming to learn that if he wants to make Amy his, he'll have to prove to her that life downstairs can be everything they both want.