Melt My Heart

by Rachel Cross, Nicole Flockton, Debra Kayn, Holley Trent
Sometimes Cupid works in mysterious ways. This diverse collection of Valentine tales proves that love can be found when you least expect it and in the least likely places … A farmer, a doctor, a biker, and a werewolf all get struck by the love god's arrows in this sweet and super-sexy anthology.
This is a great anthology, you get a little of everything to make it Hot, Sexy, Fun and with just the right touch of paranormal. You don't want to miss it.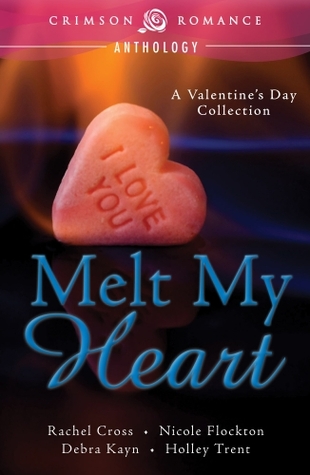 Bloom by Rachel Cross
In Bloom by Rachel Cross, Ava Bennett has gone to the middle of nowhere as a favor to a rock star client. She only has to go there to see if his friend Nathaniel is well since he is not easily reached. Only when she arrives, her car breaks down and she knows nothing about cars. She expects to call a tow truck and get the car fixed fast enough to return home ASAP.
What Ava didn't expect are the dogs that go out to the road where she is or to have them start licking the anti-freezer that is pooling under her car. So when a man comes running behind them screaming to stop them she tries her best. But they can certainly be persistent. Unfortunately she doesn't know that they could die from this, and the guilt is so big that she will stay and look after the dogs with Nathaniel until she knows that they will survive.
Nathaniel knows Ava's type. She is so focused on getting to the top and the highlife in the city. He knows what that is like, but for his health he has to remain at a more sedate pace. And while nobody really knows why he left his career, there are many rumors out there. His illness made his life hard, and until he learned to control it his life was chaos.
Laying Down His Colors by Debra Kayn
In Laying Down His Colors by Debra Kayn, Kristen Mead had a night she can't forget with Bruce Grennan on Valentine's Day the year before. But after that night he has done his best to keep his distance from her and to avoid her. This year on the anniversary of the day that Bruce rocked her world, Kristen will give it one last chance. If Bruce will not accept her then she will move on.
Bruce has not been able to forget Kristen and their one night together. But he made a promise to her father to keep his distance. When he sees her walking out of the bar, he cannot help following her. Making her sad has been hurting him too and he can no longer stay away from the woman he fell in love with.
Only this Valentine day Bruce will not be able to walk away from her again. Unfortunately, he will probably have to lay down his colors before her father will accept him.
Trapped by Cupid by Nicole Flockton
In Trapped by Cupid by Nicole Flockton, Nurse Lisa Wheeler would love to be swept off her feet. But instead, this Valentine's Day she is working the night shift while others are making plans for the night and receiving presents.
Dr. Noah Collins is tired of everyone judging him because of his father. While his father is a great surgeon, Noah likes the ER and wants to remain there, even if his father is opposed to that idea. But because of this, he has had to keep a certain façade in front of everyone. The only down side is that because of that Lisa has kept her distance from him.
When Noah sees Lisa getting on an elevator he decides to catch a and ride in it with her so they can finally get some alone time and get to know one another. Unfortunately, the elevator stops and this becomes a problem, because they don't know how long they will be stuck there and Noah seems to suffer from claustrophobia. Now it will be up to Lisa to keep him calm until help arrives and gets them out. But Cupid has plans for these two while they are in there, and they will finally see that cupid's arrow did hit its mark.
A Demoness Matched by Holley Trent
In A Demoness Matched by Holley Trent, Julia Trent needs a place to hide from her incubus father and the cult she was born into. Thank fully her half-brother Charles knows just where to take her. Charles is an eros demon and knows whom Julia belongs with and who will protect her.
Calvin Wolff, former baseball star has been reclusive since the day he could no longer control his inner wolf. When Calvin gets an unexpected visitor at his home, he thinks that it is a very persistent fan that just wants to gain something from him.  Calvin is used to ignoring them until they go away, but the woman in the video feed is nothing like the usual women, her dress and hair style is too formal to make matters more interesting, rain starts to come down in sheets and she is getting wet out there.
He thinks that she may also be the PA he has been trying to get to help him with all his household and business needs. And while Julia will not deny it she will not accept it either, letting him draw his own conclusions. But the fact that Julia knows nothing about computers will be very obvious, and then there are the demons hunting her to return her to her father so she can fully become an succubus and a minion for her father.
Book Info

February 10th 2014 by Crimson Romance
Bloom by Rachel Cross
When L.A.'s charity fundraising maven Ava Bennett heads out to the middle of nowhere to check on a friend of her rock star client, she's shocked to discover the surly farmer she meets is actually Nathaniel Robinson. Once an infamous music producer, Nate traded in his fast-paced lifestyle for sanity—and now lives off the grid as a small organic farmer. Can a career woman find love with a virtual hermit?
Laying Down His Colors by Debra Kayn
A year ago on Valentine's Day, Kristen Mead had a night she can't forget with Bruce Grennan. But the Bantorus Motorcycle Club member and Cactus Cove bartender has ignored her ever since. As a Club kid, she knows the golden rule: you never mess with a fellow member's daughter. But she's all grown up, and ready to stake a claim on her man. Will he risk everything—including the respect of his brothers—to make Kristin his?
Trapped by Cupid by Nicole Flockton
Nurse Lisa Wheeler wouldn't mind getting swept off her feet this Valentine's Day, but it seems Cupid's arrow has passed her by. Instead, she's stuck working the late shift with arrogant Dr. Noah Collins. But when this couple gets stuck in a stalled elevator, it turns out the ER's golden boy might just have a secret soft side—and Cupid might have better aim than she thought.
A Demoness Matched by Holley Trent
Liberated from a dangerous cult, Julia Tate needs protection from her incubus father. Luckily, her brother Charles, an eros demon, knows just where she can find it: at the home of reclusive former baseball star Calvin Wolff. The mysterious Mr. Wolff is hiding a hairy secret and doesn't want to let anyone get close, but he's drawn to this innocent young woman's enthusiasm. When trouble finds them, they discover a werewolf and a demoness just might make an out-of-this-world match.