In Melting the Trauma Doc's Heart by Alison Roberts, Zac Cameron has witnessed the horror of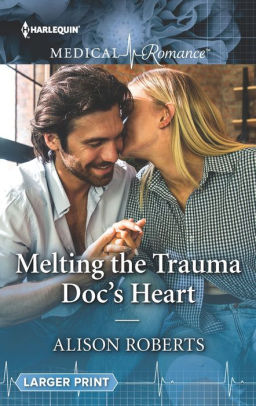 military life and now he's finally starting to move on with his life after the loss he suffered. However, when he decides to interfere in someone else's private business, he finds himself facing a situation he never thought he'd face again – falling in love with someone else. Yet, the more he gets to know Olivia Donaldson, the more he finds himself wanting to stay in the town he thought he'd only ever be in temporarily. Will Zac and Olivia give each other a chance or will their pasts keep them from taking a chance on forever love?
"I really don't care," she said. "But I do believe that seeing me before you died wasn't something on any list of priorities you might have. After all, you've had more than twenty-five years to do something about that. The real reason I came was to tell you it's not fair…"
Yes…there was a tiny wobble in her voice that made Zac wish he'd never made that call. What right had he had to interfere in someone else's life and upset them? And Don was looking alarmingly pale, as if he could collapse at any moment. If he did, it would be entirely Zac's fault.
What a very interesting opening this story has, which had me reading quickly determined to discover what sort of impact Zac's decision to do what he does has on Olivia and whether she'll be able to come to terms with the past and whether she'll be able to forgive those she believes have wronged her. Will Olivia see that Zac made the right decision? However, it was from the moment Zac and Olivia come face-to-face for the first time in this story where it really takes off, as there's so much tension and chemistry between this pair, even when there's a part of Olivia that wants to loathe him for what's he done that turns her world upside down.
As for the dialogue, it was engaging because of the main characters back stories that had me sympathizing with them because of all that they've been through and made me really enjoy the growing relationship between this pair. Certainly, Olivia has cause for her abandonment issues, even if things aren't as she was led to believe by someone that loved her. While the hero, it hasn't been easy for him and it's understandable why he's settled in Cutler Creek, even if only for a short while until he figures things out. What will life hold for him? Will he ever be able to let another woman into his life after what happened?
With the main characters, the heroine is feisty, resilient, brave and I liked how much of a challenge she provided for the hero because how dare he interfere in her life the way he does. I also liked the decisions the heroine makes throughout this story, as she begins to see that Cutler Creek and Zac is where she belongs. Then again, the path to forgiveness isn't as long a road as she thought it would be. While the hero, he's a good doctor, a good man and I liked how determined he was to win Olivia over, especially because he brings a whole world of hurt into her world and he feels she needs protecting from it. Will Zac be able to help Olivia heal from the hurts of her past? Will Olivia be able to help Zac and make him realize that he shouldn't blame himself for what happened in his past?
"I'm in love with you, Liv. Is that crazy when we hardly know each other?"
"I feel like I've known you forever," she said. "And I'm totally in love with you. It feels like I've been looking for you forever."
"That's it, exactly. For me, too. Even though I didn't know I was looking for you."
Overall, Ms. Roberts has delivered a delightful read in this book where the chemistry between this couple was strong from the moment they meet, even though there's every reason for Olivia to loathe Zac; the romance was heart-warming and had me glad that Zac took a chance on a future with another woman after what happened to someone he loved, someone that would want him to find happiness again; and the ending had me a little worried for this pair because of the medical emergency they have to deal with but had me loving how everything works out for the best for the pair, as they're meant for each other. However, it was the epilogue that wrapped this story up nicely and I loved the surprise these two have for their family. I would recommend Melting the Trauma Doc's Heart by Alison Roberts, if you enjoy medical romances, the opposites attract trope or books by authors Amalie Berlin, Ann McIntosh, Scarlet Wilson and Charlotte Hawkes.
Book Info:

Publication: October 1st, 2019 | Harlequin Medical |
He ran away from his past…
Is she a reason to stop running?
Trauma doctor Zac Cameron escaped the horrors of the battlefield and settled in a small community hospital. He's just about coping until an unexpected visitor—renowned surgeon Dr. Olivia Donaldson—whirls into town. She might be his boss's estranged daughter, but their chemistry's instant—and irresistible! Yet Zac's emotions are completely off-limits, unless Olivia's the one who can thaw his frozen heart…?