In Miracle Baby for the Midwife (London Hospital Midwives Book 2) by Tina Beckett ,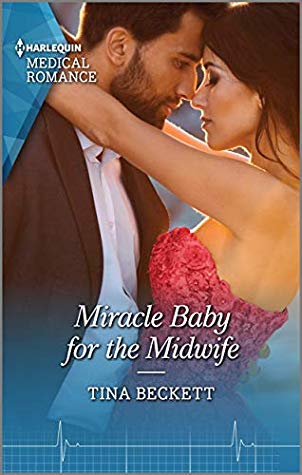 Midwife Carly Eliston has been aware of the sizzling chemistry between herself and her boss Dr Adem Kepler, a neurosurgeon who runs the clinic, for quite some time. But she never thought she would ever get to explore that attraction with the sexy doc. Then they spend a steamy night together and the intensity shocks both Carly and Adem. They leave things casual as he's all but sworn off long-term relationships, and she's been raised to stand on her own two feet. But when Carly becomes pregnant, thinking she was basically infertile, Adem has to adjust quickly to the fact that he'll be a father. And Carly must decide how much she wants him to be a part of their baby's life.
'He thought he wanted what was best for all of them. But did he really? Or was he more concerned with his own comfort and trying to change his life as little as possible?'
Soaring attraction between an employee and her boss–both of whom were exceedingly stubborn and independent. A surprise pregnancy after a casual hookup. Sounds like a pretty fun setup, right? Tina Beckett definitely followed through on the premise and managed to infuse just the right amount of angst and passion to keep me glued to the pages of Miracle Baby for the Midwife from beginning to end.
'Her hand crept across her belly in wonder, her heart filling with a hope and love she hadn't known existed. How could this possibly be happening?'
Adem and Carly were such an intriguing pair. A neurosurgeon and the midwife who worked at his clinic, they ignored their attraction as long as possible before giving in. I liked that there was a nice balance between the heated love scenes and with the emotions Carly and Adem were surprisingly hit with. They had issues they were trying to work past: his childhood and her fertility problems. And I'm not kidding when I said Adem and Carly were stubborn. They were brought up very differently and couldn't quite seem to make things mesh between their personalities or what their view was for their unborn child. But Beckett turned things around at the end and gave them a super romantic, completely realistic HFN that will have readers sighing happily.
Swoon-worthy, sexy, and down to earth, book two in the London Hospital Midwives series was a totally engaging romance that can be read as a standalone. Although I think fans of Harlequin Medicals will want to read all the books in the series. They're just that good!
Book Info:

Publication: Published January 20th 2020 | Harlequin Medical Romances | London Hospital Midwives Book 2
A night like no other…A miracle she's dreamed of!
In this London Hospital Midwives story, knowing she may never have children isn't easy for midwife Carly Eliston. But devoting her life to helping other mothers realize that dream is fulfillment enough. Until she begins working alongside sexy neurosurgeon Adem Kepler! The cautious yet charismatic bachelor challenges Carly to let her hair down… One night of amazing passion later, Carly's in for a miraculous shock—she's carrying Adem's baby!
A London Hospital Midwives novel
The London Hospital Midwives quartet
Book 1 – Cinderella and the Surgeon by Scarlet Wilson
Book 2 – Miracle Baby for the Midwife
Book 3 – Reunited by Their Secret Daughter by Emily Forbes
Book 4 – A Fling to Steal Her Heart by Sue MacKay
"Ms. Beckett is a wonderful author whose books I normally find easy to get into…where the chemistry between this couple was strong right from the beginning and only gets stronger as this story progresses; the romance was delightful…."
—Harlequin Junkie on The Surgeon's Surprise Baby
"Every medical romance I've read by Ms. Beckett has entertained me from start to finish, as she writes complex characters with interesting back stories, compelling dialogue that has me enjoying the growing relationship between the two main characters, and challenging obstacles for the characters to overcome and this story was no different."
—Harlequin Junkie on One Night to Change Their Lives