In Mermaid Inn by Jenny Holiday, Eve Abbott has inherited the Mermaid Inn in Matchmaker Bay, a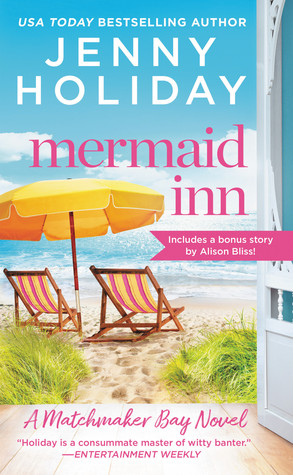 place she never wanted to return to. Her goal is to rehab the inn, sell it, and get out of town. Her plans are thwarted, however, when a stipulation in her great-aunt's will requires that she stays at the inn for a year before selling. Now she can no longer avoid the person who broke her heart ten years earlier, Police Chief Sawyer Collins.
Ten years earlier Sawyer did something to purposely drive Eve away, afraid she would stay behind in Matchmaker Bay and give up her dreams for him. He's been busy raising his younger sister and trying to forget her. Now that she's back in town, will he, with a little help from some members of the town, be able to get her to stay and give him another chance?
The story itself is a bit predictable, but the quirky townsfolk more than make up for that. Matchmaker Bay is an appropriate name for the town, as it seems everyone is conspiring to get Eve and Sawyer back together. There is plenty of humor and interesting town events.
As for Eve and Sawyer, I liked them but I didn't love them. I liked how Eve handled the situation with Sawyer's sister, Clara. I also admired how she wanted to keep touches of Lucille's mermaid theme in the updated inn in her memory. It did feel like she had a tendency to run away from things though. For example, after the initial incident with Sawyer, she left Matchmaker Bay and wouldn't return, not even to see her great-aunt. Lucille didn't even get to see her before she died. Also, when things start to heat up with Sawyer, she considers running back to Toronto. I would have liked her more if she didn't always want to run away and stood up to her problems instead.
As for Sawyer, I understood and respected his desire for Eve to leave town and follow her dreams all those years ago. What I couldn't get behind was the way he pushed her away and the public humiliation she endured. There were other ways he could have encouraged her to leave town, without hurting her the way he did. I did like how he stepped up to the plate to help her with the inn's renovations, and the surprise he made for her. I also loved how great he was with Clara, especially when she reveals a secret that she had been keeping from him. He was a wonderful big brother and father figure to her.
I'm looking forward to reading more about the residents of Matchmaker Bay, including Sawyer's best friends, Jake and Law, who are featured quite a bit in this book. Law and Eve's friend, Maya, have a dislike of one another, which leads to several amusing interactions. It'll be interesting to see what happens between them.
Fans of small-town and second chance romances who are looking for a book with little drama and plenty of laughs, look no further. While I wasn't overly crazy about the actions of Eve and Sawyer, I still found the book to be charming and entertaining.
Book Info: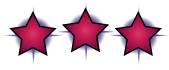 Publication: January 28, 2020 | Forever |
Eve Abbott has a problem-actually, make that a lot of problems. And they're all going to get worse the moment her toes hit the sand in Matchmaker Bay. Once a blissful summer escape, now the tiny town just reminds Eve of loss. Inheriting her aunt's beloved Mermaid Inn is the only reason Eve is coming back. She's definitely not ready to handle nosy neighbors, extensive renovations, or the discovery that a certain heartbreaker still lives down the street…
Police Chief Sawyer Collins always does the right thing, even when it costs him everything. Like Evie. He's spent the past ten years trying to forget her–to forget how right she felt in his arms, to forget the pain in her eyes the day she left. The last thing he expects is to see her back in town or to find that the spark between them is as strong as ever. Sawyer knows this is his only chance to prove that his feelings have always been real… before Eve turns tail and leaves for good.