Miss Mechanic by Emma Hart: Emma Hart is one of my favorite rom-com authors, and she's delivered again with Miss Mechanic. It's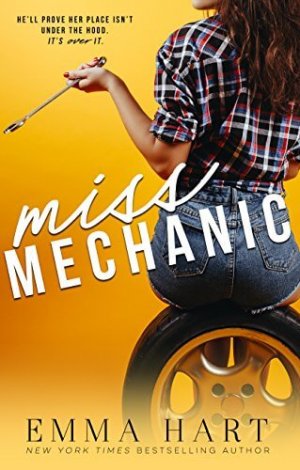 charming, sexy and hilarious with a sassy heroine and swoon-worthy hero, and it is fun from cover to cover.
Jamie Bell is a mechanic and has always battled the rampant sexism in her industry, but she's tough, smart and determined. After her father is forced to sell their family's garage, she applies to work there for the new owner, Dex Ryne. When she shows up for her interview with Dex, he isn't sure how to process the idea of a female in his garage, because the idea is so foreign to him. She's a bit like a unicorn, and he has a hard time thinking she can handle the physicality of the job, and her tells her this.
He and Jamie immediately clash and begin in an epic battle of wills, and she isn't backing down and convinces him to give her a chance to prove herself. She and Jamie go toe to toe for round after round exchanging snappy on-liners and snarky comebacks infused with sizzling chemistry. As much as these two annoy each other, they are also fiercely attracted to each other, and they find it harder and harder to resist each other. They are mesmerizing to watch as they evolve from enemies to lovers, and Jamie changes Dex's opinion on female mechanics while they fall head over heels in love.
Miss Mechanic is an utterly entertaining and feel-good love story punctuated by laugh-out-loud banter, heartfelt moments and searing heat. Don't miss this gem of a romantic comedy.

Book Info:

Publication: 12/12/17 | Self-Published – Emma Hart |
"Don't let the bastards get you down."
For twenty-six years, I lived by my daddy's motto. Which is why "Mechanic Wanted" is all it takes for me to apply for the job at the garage we once owned.
And I meet the biggest bastard of them all.
Dexter Ryne. Hotter than Hell in July and a firm believer that my place is on reception, taking phone calls and looking pretty. Not getting dirty under the hood of a car.
Determined to prove each other wrong, we make a deal.
I have three weeks to prove my worth as a mechanic. If I don't, I'm on telephone duty.
If I do, he'll accept defeat and make my job permanent.
Now, all I have to do is fight my attraction to the cocky little… beep.
Problem is, an engine isn't the only thing he knows how to make purr…