Mister Hockey by Lia Rileyis about a bookworm librarian, Breezy Angel, and the star of her fantasies, the team captain of the NHL's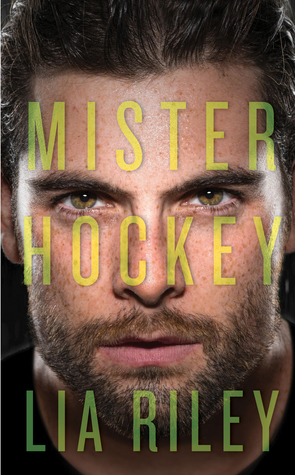 Denver Hellions, Jed West. While doing an interview with Neve, Breezy's sister who is a report that covers the Hellions, she receives a frantic phone call from Breezy that the team's coach, Tor, couldn't make a scheduled event at the library, Neve ropes Jed into taking his place. There he meets Breezy, and it's instant attraction. Breezy is a huge fan of Jed's, but instead of admitting it, she tells him her family likes the team but leaves herself out of the equation. When he finds out the truth, and someone leaks the story that he might be retiring, will he be able to believe that Breezy wasn't just a crazy fan out to make a quick buck selling his story?
I felt bad for Breezy. Her job at the library is in jeopardy, her mother can't believe Jed would be in interested in her and clearly favors Neve, and she has an embarrassing wardrobe malfunction at the library event. Still, she always picks herself up and keeps going. Even though her mother clearly lacks faith in her, she pushes forward, with Jed's insistence, with an idea to open up her own book shop. And when she's wrongly accused of leaking the story, she does what she can to make it right. I would have liked to have seen her confront her mother though, especially the scene where she overhears her mother and aunt talking about her and Jed. It would have been nice to see her stand up for herself then. Needless to say, I wasn't a fan of her mother, although she eventually tries to make things right between them.
I liked Jed. It was clear he had a good heart, immediately going to help Neve and Breezy out at the library when he could have easily said no. He even went above and beyond, doing an impromptu autograph session.
"What about autographs?"
"Oh. I don't want to impose on your time." Impossible to tear her gaze from the way his lucky hand scrubbed his chin scruff, bristly brown hairs that looked as if they'd feel delicious dragged across bare skin.
"Wouldn't be right," he muttered to himself. "These are kids."
That's it. She was dead–an official ghost, one who'd roam the library as a happy phantom because she'd kicked the bucket in the best of ways, discovering her celebrity crush was an actual good guy, not just playing one on television.
The story was filled with humor, some of it a bit cheesy at times, yet still enjoyable. The one thing I did think it lacked was chemistry between Jed and Breezy. While they were good together, it just felt like something was missing. Maybe it was because of how quickly their relationship developed, but I just didn't feel it. Despite this, I still enjoyed the story overall.
The book also covers the topic of traumatic brain injuries in sports. It was sad to see what happened to Jed's brother and what became of him, as well as what lengths his sister-in-law goes to in desperation. Jed also has to make a difficult decision when it comes to do with his own brain injury.
Mister Hockey is an opposites attract story. If you enjoy this trope, you may enjoy this book.
Book Info:

Publication: July 11, 2017 | Avon Impulse | Hellions Angels #1
Jed West is Mr. Hockey. The captain of the NHL's latest winning team, the Denver Hellions–and the hottest player on the ice—at least according to every magazine. .and Breezy Angel. Breezy has been drooling over Jed at games for years, and he plays a starring role in her most toe-curling fantasies. But dirty dreams don't come true, right?
Then Jed saunters through the doors of her library, a last minute special guest for a summer reading event, and not only is he drop dead gorgeous up close, his personality is straight up swoon-worthy. He even comes to the rescue when she has an R-rated "Super Book Worm" costume malfunction. But when he mistakenly assumes she's more into books than pucks, she's too flustered to correct his mistake. And then comes a big kiss, followed by a teensy-tiny problem. Jed's dating policy is simple: Never date a fan.
So what's a fangirl going to have to do to convince her ultimate crush that he's become less of a perfect fantasy, and more like the perfect man. . .for her?