In Mistletoe Magic by Melissa McClone, the last person Caitlin expects to ever see again is just who she does see when she rescues a hypothermic kitten and rushes her to the vet. The vet is no other than her college sweetheart Noah…the man she gave her heart to and who devastated her when he decided that he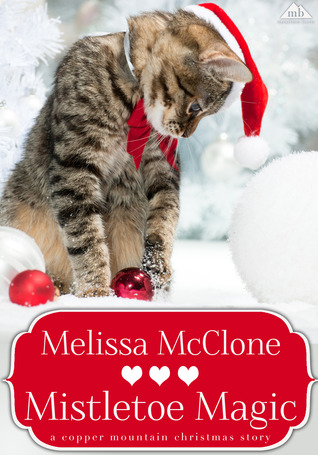 couldn't have a relationship with Caitlin and focus on his career…so it would be best for Caitlin if they broke things off.
Caitlin eventually go over Noah…or so she thought until all the old feelings come rushing back and she finds herself standing under the mistletoe with him. Both Caitlin and Noah are alone for the holidays…and so is a cute little kitten now named Mistletoe. Caitlin and Noah are both different but in some ways the same as they were years ago…and they both still have feelings for the other. Can Caitlin trust what she's feeling? Can Noah convince Caitlin to give him another chance?
Will the magic of Christmas and love bring them together again at last?
Mistletoe Magic is a fun, fast paced, sweet novella that is a perfect read when you want to feel good! Melissa gives us just enough background on Caitlin and Noah to understand them, love them, and hope they both believe in second chances. I could feel the magic in Mistletoe Magic between the vivid descriptions of decorations, the snow, the mistletoe and the animals! I loved the animal element in Mistletoe Magic as much as I loved Noah and Caitlin! As soon as I saw the cover of Mistletoe Magic I knew I had to read it!
I'd recommend Mistletoe Magic to any romance reader looking for a fast paced novella to put you in the Christmas spirit! Although Mistletoe Magic is part of the Cooper Mountain Christmas series, it can definitely be read as a stand alone.
Book Info:

Published November 22nd 2013 by The Tule Publishing Group
Spending a quiet Christmas housesitting and reading novels about hot cowboys sounds perfect to Caitlin. Until a stray kitten brings her face-to-face with Noah, her crush from college. Watching the handsome vet in action melts Caitlin's heart and brings back long forgotten emotion. She would be safer back at the house lost in the pages of a book. But a toe-curling mistletoe kiss tempts her to stay. Maybe she won't be spending this Christmas… alone.
Veterinarian Noah Sullivan isn't a Scrooge, but the Christmas Eve tradition of hanging mistletoe in the clinic's waiting room annoys him. Kissing doesn't belong at the Copper Mountain Animal Hospital. Noah rethinks his position when Caitlin Butler arrives with a stray kitten she found freezing in the snow. All he wants now is to maneuver the pretty preschool teacher under the mistletoe. If he's not careful, he'll wind up on Santa's naughty list.
Mistletoe Magic is a short story companion to the Copper Mountain Christmas series.